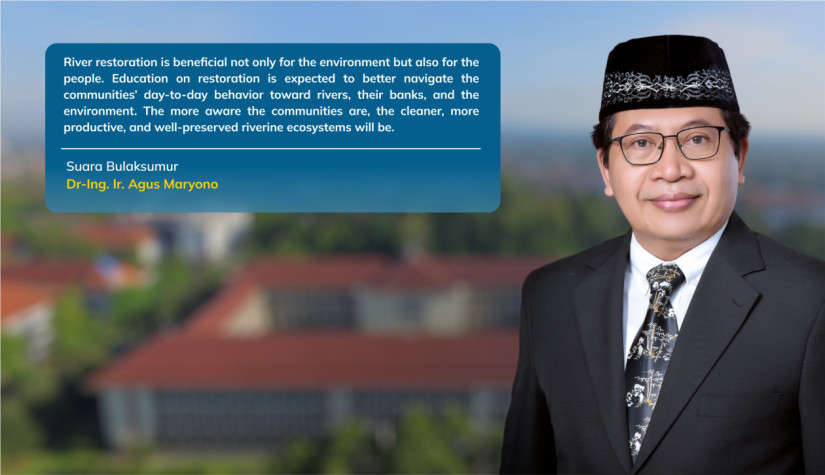 Author: Dr-Ing. Ir. Agus Maryono
Rivers are a valuable asset for Indonesia, but the quality of rivers in the country, especially in urban, residential, and industrial areas, is still far from ideal. River pollution is a serious issue, and we can't deny the fact that human activities have significantly exacerbated the situation. According to data from the Ministry of Environment and Forestry in 2014, 73% of rivers in Indonesia are heavily polluted, indicated by levels of BOD, COD, pH, and E. coli that far exceed the permissible limits. It is very alarming, but what can we do to turn things around?
Paving the Way for River Restoration in Other Cities
The Indonesian River Restoration Movement (IRRM), or Gerakan Restorasi Sungai Indonesia, kicked off in Yogyakarta in 2014 to spur awareness and participation of people settling along the riverbanks, referred to as river communities, in river restoration and environmental sustainability. The movement promotes a river restoration concept that covers the environmental and socio-economic dimensions of the river. Keeping rivers clean and healthy is as critical as increasing public awareness of river restoration and sustainable river management, and that should start with the people who live closest to them.
As a community-based project, IRRM seeks to transform the mindset, values, and habits of river communities for the better. These communities are encouraged to acknowledge their role and responsibility as 'river keepers' and then take concrete action to protect and sustainably utilize the river where they live. From only six river communities, all based in Yogyakarta, the network has grown rapidly in the last eight years as the project spreads across the country.
Eight years into operation, more and more cities have river communities. IRRM currently has more than 100 branches spanning from Surakarta, Klaten, Jakarta-Bogor, and Bandung in Java to Banjarmasin in Kalimantan. Each network branch has its own organization and several sub-branches consisting of two to seven groups. Members of IRRM vary from academics, government officials, and professionals to NGO staff. Universitas Gadjah Mada (UGM) became the first secretariat of this network organization.
IRRM offers a breadth of interactive learning programs, including discussions with academics and practitioners, seminars, cultural events, economic activities, river cleanups, riparian plantings, and more. There is also a River School program, or Sekolah Sungai, initiated by UGM to amplify knowledge transfer to the communities. In this school, the communities will explore the concept and implementation of river restoration, waste management and river pollution, empowerment and organization of riverbank communities, river tourism, disaster risk reduction, and local economic development. The management, modules, lectures, classrooms, students, and financing are flexible, and the respective communities will organize the school according to their capabilities and interests.
Helping People and the Environment
River restoration is beneficial not only for the environment but also for the people. Education on restoration is expected to better navigate the communities' day-to-day behavior toward rivers, their banks, and the environment. The more aware the communities are, the cleaner, more productive, and well-preserved riverine ecosystems will be.
Code River (Yogyakarta) and the Woro River (Klaten) communities, for example, now have a better and more sustainable way of managing waste. They understand the danger of building a house too close to a floodplain and can even develop their own simple Social Early Warning System. IRRM targets that by 2025, every province in Indonesia will have at least one active river community, and by 2030, 75% of rivers in cities and villages will achieve a relatively clean and healthy status.
The road ahead is still long and full of challenges. But river restoration is a must-do for humans to survive. IRRM will not stop educating and inviting communities to take part in river conservation. More River Schools are planned to reach other river communities in the country, while program trainers are increased to meet community needs.
Investing in the health and quality of water resources, such as rivers, can help improve people's livelihoods, which in turn can encourage more people to practice the values taught by the movement. If that happens, imagine how big the impact will be on our rivers.