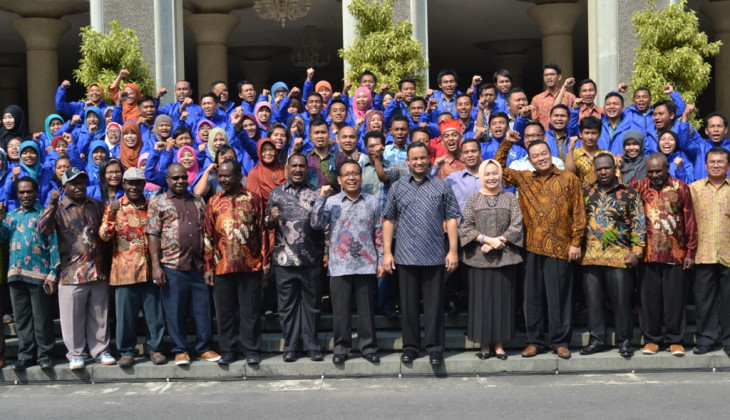 YOGYAKARTA – State Secretary, Prof. Dr. Pratikno, M.Soc.Sc., and Education and Culture Minister, Dr. Anies Baswedan, dispatched 64 teachers to eight districts in Puncak Papua on Sunday (24/5) at Balairung Universitas Gadjah Mada. The dispatch is a program initiated by the Papua working group of Universitas Gadjah Mada. The teachers came from various universities.

"I think this is a breakthrough made by UGM, sending pioneer teachers to Papua, making education as one important pillar," said Pratikno to journalists.

Pratikno said the teachers would be assigned to isolated areas of Papua. He further appreciated the young generation for their spirit in advancing education in those isolated places.

According to Pratikno, human resource strengthening of Papuans is a vital portion in supporting Papuan economic growth in the future along with the policy of current President Joko Widodo that wants to increase infrastructure development in that area. "Prices of goods in Papua should not always be higher than those in Java," he said.

Minister Anies Baswedan said the teacher dispatching was to carry on the tradition of Universitas Gadjah Mada starting back in 1952 that sent students to remote areas, initiated by the late Prof. Koesnadi Hardjasoemantri.

To the teachers, Anies asked them not only to teach but also inspire the young students there.

The event was also attended by Rector of UGM, Prof. Ir. Dwikorita Karnawati, MSc., Ph.D., Regent of Puncak Papua, Willem Wandik, and Chairman of Papua Working Group, Dr. Bambang Purwoko. The Rector said the teacher being dispatched was the determination of UGM to build human resource of Eastern Indonesia. She expected the teachers to perform well. "I wish you good luck, you have to be a role model for education in Puncak Papua," she said.

Bayu Adiwena Mustika, 27, one teacher, said he would be willing to be assigned to any school as instructed.
Regent Willem Wandik said the teachers would be able to motivate the school children and other teachers that have been teaching in the province.