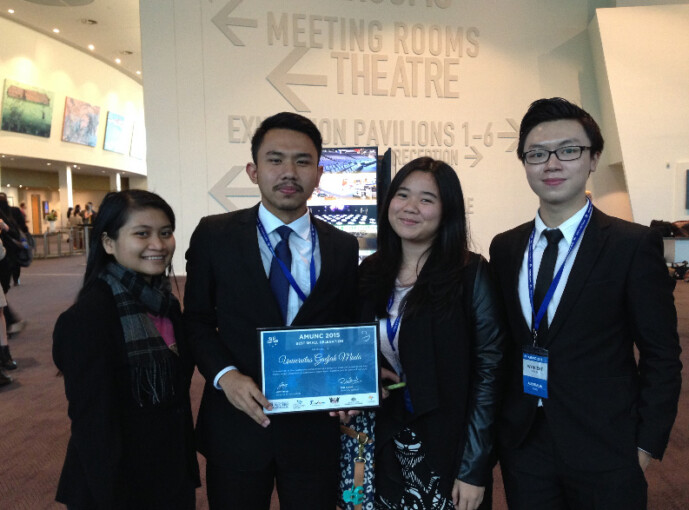 Universitas Gadjah Mada lecturer in accounting, Singgih Wijayana, Ph.D. earned the Financial Accounting Best Paper Award during the SAAA 2015 Biennial Conference and International Association for Accounting Education and Research (IAAER) Paper Development Workshop, held by the Southern African Accounting Association (SAAA) in cooperation with IAAER in East London, South Africa, from 29 June -1 July 2015.
According to Singgih, the conference was attended by 300 participants from academics, industrial players, regulators, and doctorate students from Africa.
Singgih presented his article titled The Information Content of Cross-Listed Firms' Financial Information during the Convergence Period, written with colleague, Fuad Rakhman, Ph.D.
"Along with IAAER scholars from South Africa, Romania, and Poland, we had the opportunity to present our working paper to get feedback," he said on Thursday (9/7) at UGM.
Outstanding professors from renown universities also attended the event, including Katherine Schipper, Mary E. Barth, Elizabeth Gordon, Sidney Gray, Keryn Chalmers, Alfred Wagenhofer, Greg Burton, Kazuo Hiramatsu, Danqing Young, and Ling-Tai Lynette Chou.
They were also given a mentoring on their working paper so it can be published in top tier journal. Singgih saw that the networking was one benefit of the conference.
Singgih is entitled to be presenting his article in Taiwan from 3-4 December 2015, a collaboration conference between IAAER and National Cheng Kung University (NCKU) and Taiwan Accounting Association (TAA). He is also invited to be a visiting scholar at University of Sidney, Australia.
"I'm very thankful for this award. I hope this can make Indonesia, especially Accounting Department UGM, proud," said member of the Accounting Standard Agency, Indonesian Accountants Association, and Deloitte Scholars.