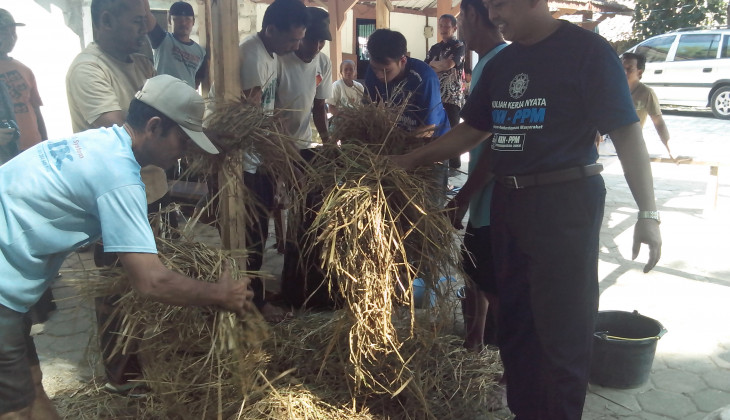 Students of Universitas Gadjah Mada that join the Student Community Service programme (KKN UGM) have given local residents a training in processing dry rice hays into fermented hays in the village of Kebonrejo in Blora city, Central Java.

Student coordinator, Abdussalam Al Ghozali, said during the dry season farmers found it difficult to collect green feed for their cattle. Long use of dry rice hays will not give enough nutritions for the cattle.

"Feeding cows with dry hays until 5 months will cause the cows short of nutrients because the protein in the hays is only around 3-4%," the student of Animal Husbandry Sciences and Industry study programme said in a release sent out on Thursday (23/7).

A breakthrough is, therefore, needed for the supply of feed with good quality and available all year round. Processing the dry hays into fermented hays is one of the solutions.

"We're giving this training to support the provision of good quality feed in Blora," he said.

Blora is known as one of the supplier of cows in Central Java with a population of 16-17 percents. In the Kebonrejo village, almost every household raises cows, so quality improvement of feed is important to do.

"The farmers here are very enthusiastic joining the training, wanting to implement it soon," he said further.

Student supervisor, Bambang Suwignyo, S.Pt, MP, Ph.D., said dry hays processing into fermented hays is one of the ways to improve animal feed, especially if it is made into complete feed - added with brans - to increase the protein levels.