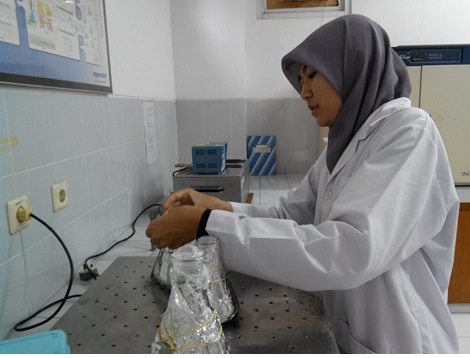 Cancer is one of the most feared diseases for people. Women, in particular, are dealing with various types of cancer, including breast cancer that currently tops the incident number of cancer cases in Indonesia with 25,208 patients per 100,000 people and as high as 43% end in death.
"Usually, the high mortality rate in breast cancer cases is due to the late treatment when cancerous cells have spread to other tissues," said student of Pharmacy UGM, Layung Sekar Sih Wikanthi, on Friday (2/10).
According to Layung, the spread of cancerous cells may trigger the growth of new cells in other parts of the body. Concerned with this problem, Layung and her Pharmacy fellow students – Lodyta Nawang Tika and Shofa An-nur – became attracted to cancer researches. Supported by the CCRC (cancer chemoprevention research center) of the Faculty, they developed an herbal agent – oyster mushroom or Pleoratus ostreatus – as a preventive measure.
Layung said, "Apart from the delicious taste, the mushroom has the benefit as anti-cancer agent," she said.
Breast cancer goes through several phases, including metastasis, when the cancerous cells move from their original tissue to others, growing into new tumor masses. This phase is ruled by a number of things in the body, including the expression of excessive MMP protein. Previous researches have shown that the mushroom can inhibit the continuous growth of the cancer and the growth of new blood veins in cancers.
"The oyster mushroom has the potential to be developed as anti-metastasis through the reduction of MMP-9 and MMP-2 protein expressions," she explained.
The research went for four months that included mushroom sampling, extraction, compound activity testing, migration inhibition of cancerous cells as well as the observation of the high protein level that marks the breast cancer metastasis.
These students hoped that the oyster mushroom can be developed further into a more applicable product to prevent and treat breast cancer cases.