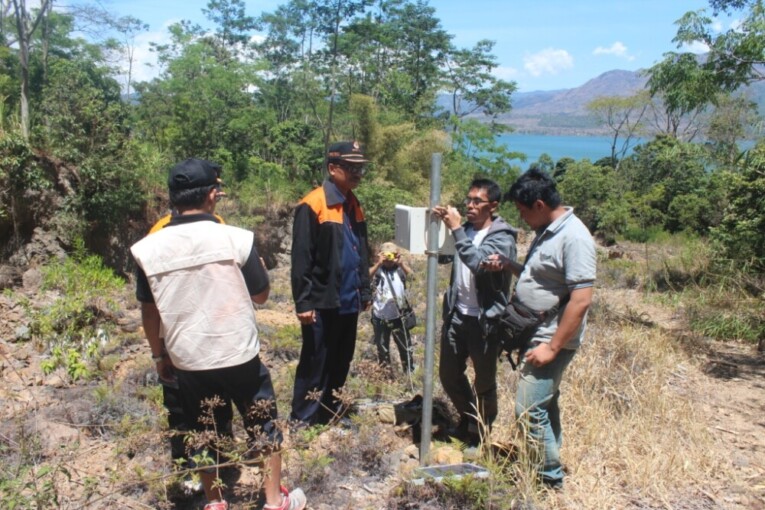 YOGYAKARTA – Universitas Gadjah Mada in cooperation with National Disaster Mitigation Agency installed four landslide early warning tools in Batu Dinding village, Kintamani, Bali, last week. These are expected to reduce the landslide risk in the area that are vulnerable to land movement during the rainy season.

"We installed these tools last week. For four days we decided where to install the tools in several locations, involving a geology team, engineering team, as well as social team and disaster mitigation team," said one member of the geology team of UGM, Dr. Wahyu Wilopo, when contacted on Wednesday (28/10) at UGM.
According to Wahyu, the installation of the tools were following up a request from the local people to the Mitigation Agency. The UGM team then visited the Batu Dinding village. After the tool installation, the local people are invited to join a training in how to use the tools, do mitigation and determine evacuation route for landslide occurance. The UGM detection tools consist of extensometer, tilmeter, and rainwater meter.
Wahyu said that the team further establish a disaster-ready group among the local people. They are trained to do tools maintainance, mitigation and evacuation of the procedures and process if there is a threat of danger.
According to Wahyu, the EWS tool can detect land movement even if it is just one 1 milimeter movement. A sirene will go off after the tool detecting this land movement.
Separately, Nyoman Tinem (44), a local figure from Batu Dinding said his village was prone to landslides, especially during the rainy season. He expressed his sastifaction following the installation of the early warning system. "During the rainy season, landsliding often happens," he said.
He added some 300 families were living in that village who are mostly vegetable farmers. Their plantations are on a rather extreme level of slopes. Nyoman hoped the tools from UGM would minimise the impacts of landslide risks.