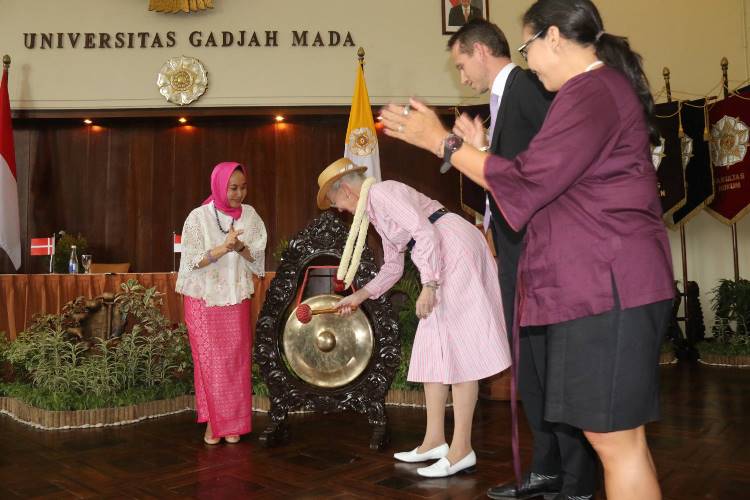 Due to the prolonged drought and forest fires, wild animals and orangutans in Indonesia have caused a concern while they are increasingly threatened. To rescue and conserve these animals, Faculty of Veterinary Sciences UGM has invited Chester Zoo in the UK to address the rescue of the animals.
Dean of the Faculty of UGM, Dr. drh. Joko Prastowo, MSi., explained this point after a meeting with Director General of Chester Zoo, Dr. Mark Pilgrim, and Veterinary Officer, Dr. Steve Unwin. Joko quoted the Chester Zoo managers as saying that they were committed in assisting the rescue of orangutans that are conserved after the forest fires.
Chester Zoo and UGM Faculty have actively cooperated in assisting and facilitating capacity enhancement of veterinarians working in orangutan rehabilitations centres in Kalimantan and Sumatera, also in zoos as well as Safari Park in Indonesia who joined the Orangutan Veterinary Advisory Group (OVAG).
Dr. Steve Unwin said the threats against wild animals were real and affected the health of the animals. "Rescue efforts are needed continuously related to the habitat of the orangutans affected by the forest fires," Joko said to reporters on Monday (26/10).
UGM and Chester Zoo have further agreed to work on handling diseases that affect wild animal as well as animal rescue in National Park, Safari Park, and other zoos. Joint publications will also be made in international scientific journals. There will also be training to be conducted in Chester Zoo. It is expected that these will help capacity enhancement of UGM students and veterinarians in treating diseases affecting wild animals that are getting more complex nowadays.