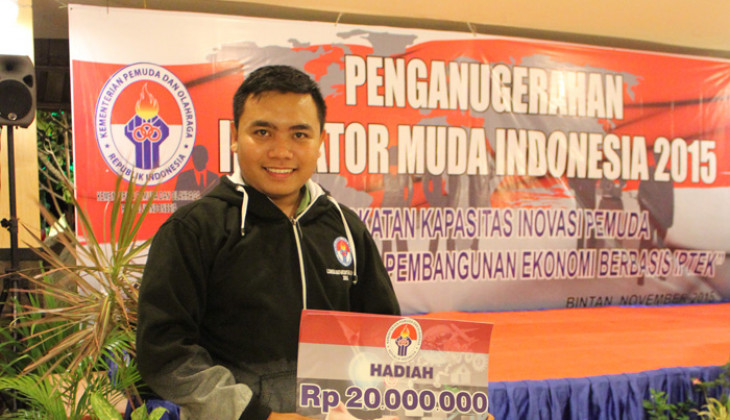 Students of Universitas Gadjah Mada have won first place in the Science and Technology Innovation contest hosted by the Youth and Sports Ministry from 16-19 November 2015 in Bintan island, Riau province.

It was Rahmad Dwi Ardhiansyah, student of Veterinary Sciences that won the competition, beating other 29 finalists from other high schools and universities across Indonesia.

"The competition is joined by 30 finalists from a number of regions in Indonesia, varying from high schools students to graduate students," he said on Monday(23/11) on campus.

Rahmad submitted his proposal entitled Extract of Gnetum gnemon as Wound Medicine. In his research, the extract of this plant is rich in flavonoid, vitamins C and E that can heal wounds quickly and optimally.

"The business is promising. The extract can produce profits as high as 70% of the total production costs," said he.
The Innovation competition is aimed at developing the creativity of the young people, especially in science and technology innovations, and grow the economy. The youths can later be motivated to develop the economy based on science and technology.

For his win, Rahmad was entitled to some Rp20 millions in prize as well as training in product development together with the other 29 finalists. Another representative from UGM was Fahra Vaca from Faculty of Pharmacy that submitted Ergonomic Smartphone Case (Ergose) paper as solution to smartphone pinkie disorder.