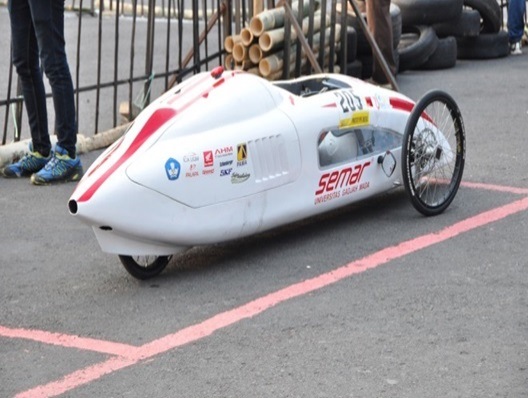 Semar UGM team is committed in making new innovations on fuel-saving technologies eco-friendly product. This was shown by their participation in Fuel-saving Car National Competition (KMHE) 2015, Diesel Prototype category, last October.
In this competition, Proto car by SEMAR team was designed as aerodynamic as possible with streamline concept to decrease air resistance. The body of SEMAR Proto is made of carbon fiber, an extremely strong and light fiber-reinforced plastic. Steering is placed on the foot so it will widen the view of the driver and could control the car's stability in turning point.
Mochamad Agam Dridya, head of SEMAR team, explained that during the National Competition held by Higher Education Directorate General , the team had to go through some technicality tests consisting of 12 inspection, such as static and dynamic braking, stability, safety and others. On energy consumption test, the team was able to get the second place on Diesel Prototype with 267 km per liter.
SEMAR team also won the third place on Off-track Award Best Vehicle Design Process and Planning," he added.
Not only participating in a number of competitions, but also the team has been creating new innovations that can be used by faculty members of UGM, such as E-Semar Electric Car which is now used around UGM main building. Besides, SEMAR team is also actively engaged in designing and developing natural gas vehicles, UGM converter kit generation 1-4 and National Electric Car (Molina). These innovations are their way to solve energy and environment problem. Semar team consists of 13 students of Mechanical and Industrial Engineering UGM and mentor Dr. Jayan Sentanuhady.