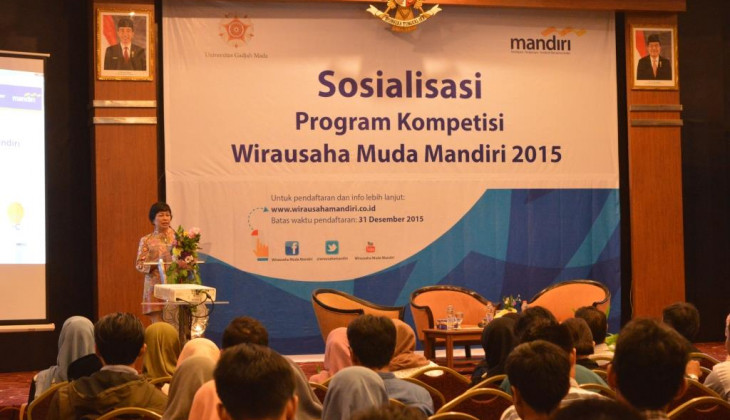 Young Independent Entrepreneurs programme is socialised by Mandiri Bank in cooperation with UGM Directorate for Partnership, Alumni, and International Affairs in University Club UGM on Wednesday (2/12), attended by students that already have business of their own or have an interest in doing business in the future. Students can also learn from the experiences of the speakers.
Director for Partnership, Alumni, and International Affairs, Dr. Anna Marie Wattie, MA., said this was a positive thing to do as a forum to develop the potential of the young generation. "The young generation as the backbone of the nation is expected to be very productive and have good quality for the future," she described. With the enactment of the ASEAN Economic Community, this generation is faced with competition from other states. Hence, the students are expected to be very competitive.

Mandiri Bank representative, Rinaldy Alias, said the creation of jobs as an important goal is attempted to be achieved through this programme. Being entrepreneurs, one not only makes progress for himself, but also gives opportunities for others to grow. This programme thus needs to be continued. "Some of you may already have a business and this needs to be supported. Mandiri Bank is therefore present here to support these future businessmen," he said.
This program presented an alumnae from Young Independent Entrepreneurs, namely Robby Ardiarta, who share his experiences in making a business.