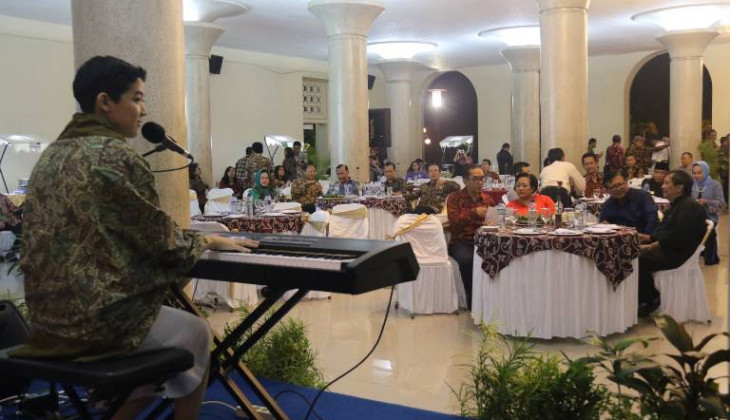 UGM Alumni gathered during a gala dinner held on Friday (12/11) at Balairung UGM. On that occasion, the Central Java Governor who is also chairman of KAGAMA (UGM Alumni Association), Ganjar Pranowo, and Rector of UGM, Prof. Ir. Dwikorita Karnawati, M.Sc., Ph.D, were present and with the other alumni who now served in the government. The event was held in a collaboration between UGM 66th anniversary committee and KAGAMA. The aims of the event were to strengthen relations between alumni residing all over Indonesia and to discuss nation's problems.
In his speech, Ganjar Pranowo said that KAGAMA will do its best to respond to the development of Indonesia. Ganjar called it as a potential development because UGM has many potentials in economy, social and political matters as well as culture that could contribute to society. Therefore, UGM Alumni have a job to think about the problems emerging in those fields.
"If the political system is troubled, we call alumni of Faculty of Social and Political Sciences (to address the problem). If the economy is unstable, we asked alumni of Faculty of Economics and Business. That way, KAGAMA will give contributions to Indonesia," Ganjar said.
Meanwhile, Rector of UGM, Prof. Ir. Dwikorita Karnawati, M.Sc., Ph.D said in her remarks about the development in the new curriculum system that will support UGM students to join non-academic activities and the refurbishment of the Students Activity Building (Gelanggang Mahasiswa).
"We plan on putting student's non-academic activity to the credit system so the students could participate in an organization without leaving their academic obligation. Second, we plan to renovate Gelanggang Mahasiswa so that it would look better and safe since the age of the building is more than 30 years," Dwikorita said. (Adelily)