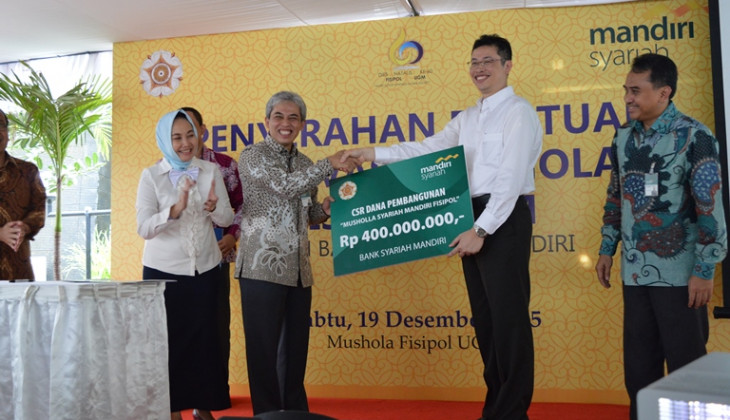 Faculty of Social and Political Sciences and Mandiri Sharia Bank are building a partnership to beautify the mosque on the campus of Faculty of Social and Political Sciences. The renovation aid was officially made on Saturday, (12/19). Also present on the occasion were State Secretary, Pratikno, and Rector of UGM, Prof. Ir. Dwikorita Karnawati, M.Sc., Ph.D, the Dean of Faculty of Social and Political Sciences, Dr. Erwan Agus Purwanto, M.Si., and Director of Mandiri Sharia Bank, Agus Sudiarto.

Reportedly, Mandiri Sharia Bank will fund as much as 400 million rupiahs to renovate the mosque. This renovation is made due to the current condition of the old building that is not adequate to facilitate the students of the Faculty.
The Rector said that the renovation is part of character building programs. According to the Rector, this mosque will later be useful to create outstanding politicians with high spirituality.

The Dean of the Faculty added that this partnership started on a casual meeting between two parties in Jakarta. "We hope the renovation of this mosque will later create wise and respected leaders with high morals who are able to guide Indonesia to the better future," he expressed his hopes.

Meanwhile, Director of the Bank said that this fund was made due to the spirit shared by Mandiri Sharia Bank, which are nationalism, empowerment and spiritualism.

"We welcome this plan warmly and look forward to our next partnership," Agus said.