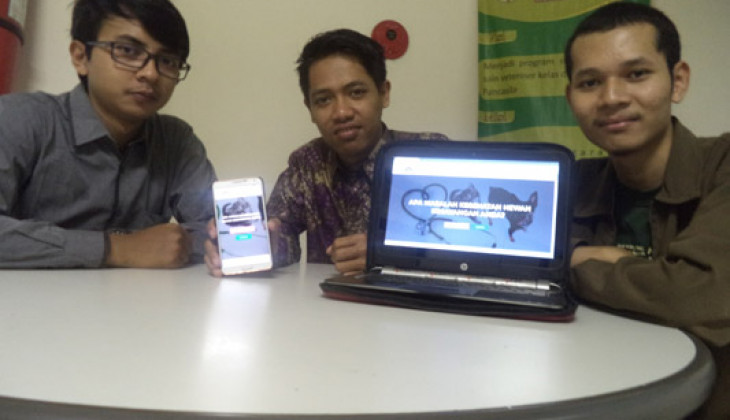 Students of Universitas Gadjah Mada have developed an innovation in technology that enables people especially pet owners to consult with veterinarians. It is an online consultation service that has been developed by Muhammad Nury Nuha Naufal and Ibnu Mahmudin from Faculty of Animal Sciences, and Nanang Makfi Mubarok from Faculty of Engineering.
"Through the website Dokterhewanku.com we hope to be able to link veterinarians with pet owners regardless of time and space," said Muhammad Nury Nuha Naufal, CEO of the online consultation service, on Monday (4/1) on UGM campus. The website can be accessed through laptops or smartphones. All features in the website can be accessed for free by pet owners.
"Currently, there are over 100 users of Dokterhewanku.com who have pets," he explained.

Through the website pet owners may ask the vets regarding the problems affecting their pets. The vets who are online will reply to the questions. They have registered themselves to the service. The mechanism works this way to enable clients have the best answers from the competent vets.

"Sometimes the questions that were raised were funny. For instance, a mother once asked why her cat kept shaking her head," Naufal said.
Naufal revealed that the vets have to stick to the vet ethics, for example not giving prescriptions, or referring the pet owners to go directly to the closest clinic. The dokterhewanku.com website also contains articles on veterinary health. They routinely publish those articles.
"This is one of the efforts to educate pet owners with good practices of pet care," Ibnu added.
Dokterhewanku.com website has teamed up with 10 vets to write for the website voluntarily. They also initiated the movement for vets to write articles.
"Now, vets not only work with syringes but also pens," said Ibnu.
These students continue to develop the online service, making new features there for pet owners.
"We will keep developing this website. Hopefully, this will give more benefits to people, especially those who have pets," Nanang concluded.