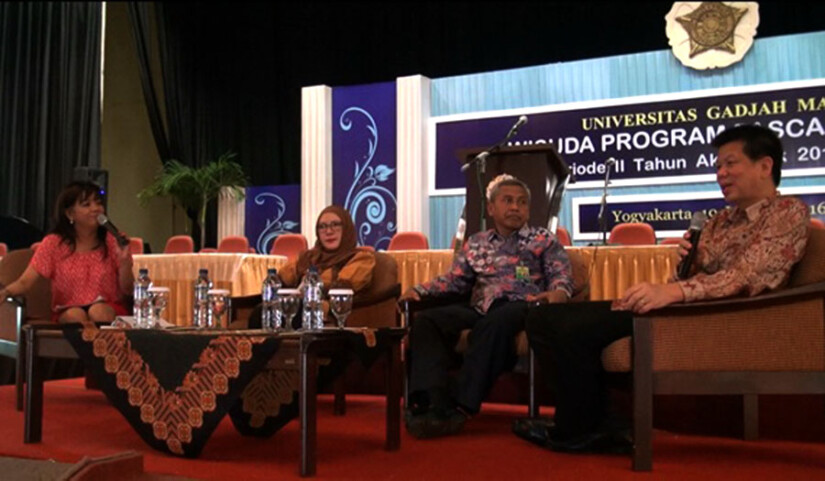 Entrepreneur and the owner of Solaria Restaurant, Aliuyanto, S.E., shared his experience in front of 1,079 graduates of post-graduate program of Universitas Gadjah Mada at Grha Sabha Pramana, Monday (18/1). Alumnus of Faculty of Economy '85 told his experience when choosing to start culinary business in 1991, or five years after working as an employee of a private company with good salary.
What made Aliuyanto decide to quit his job? "I got bored," he said shortly.
Working in a company, for Aliuyanto, gave no chance for him to develop his potential. But, starting a business is not easy, either, because his saving does not cover starting costs of a business. "When I tried to start a business, I don't have venture capital," he said.
Even so, he was committed to start a business. Culinary business was not an option at first because cooking was not even his hobby. "But everything was flowing. It was unexpected," he added.
When his first restaurant was launched on 1991, Aliuyanto admitted that his business was not doing great until 1995. At first, he had 4 employees, but after 20 years, he has opened 200 restaurants in 55 cities and 31 provinces.
Having that many branches of restaurants, Aliuyanto hired thousand of employees. To manage his business, Aliuyanto applied a simple principal that every problem has to be solved with knowledge and skill. "I got that on college. I want to develop a brand, therefore, brand is what I have to keep," he said.
Also present as speakers besides Aliuyanto were two alumni of UGM, Dr. Ir. Irfan Nugroho, Director General of Control of Watershed Area, Ministry of Environment and Forestry, and drg. Hj. Tuty Setyowati, Director of Regional General Hospital of Yogyakarta.