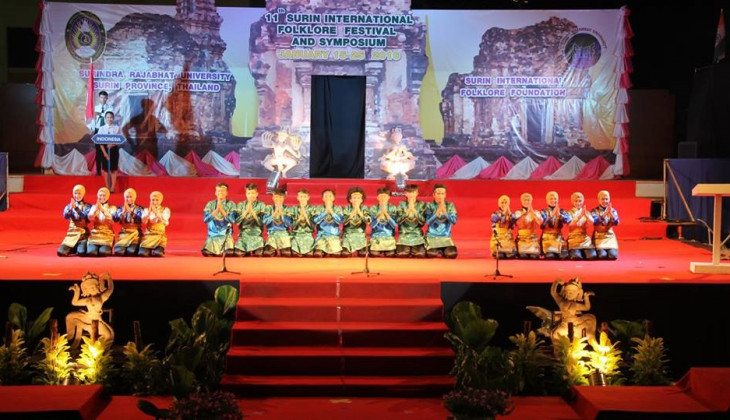 A student arts group from Universitas Gadjah Mada, SAKA UGM, team brought home international achievements. Two awards were achieved in the 11th Surin International Folklore Festival and Symposium (SIFFS), which was held by Surindra Rajabhat University in Surin Province, Thailand, from 14 to 25 January 2016. The first award was The Pride of Asia, which was based on the choice of audience. Another award is the Liveliest Perfomance. Ayudha studio that participated in this event was also awarded The Most Colourful National Costume and first place of Local Food Intenational Competition for their tumpeng (cone) rice.

Fahreza Lerian, SAKA UGM team leader, explained that the festival is a series of annual events to raise the issue of world peace through art, traditions, and culture. SIFFS this year not only presented Dance Competition, but also Art, Local and International Food, International Story Telling Competitions, and world peace declaration from the participating countries.

"It was completed by Festival of Food as well as the declaration of peace," said Fahreza, Thursday (28/1).

He added that the team's preparations for the event is less than one month. There were four dances being performed, namely Likok Pulo, Jaroe Bungong Creative Dance, Ratoeh Duek, and Aceh Creative Dance which combines Likok Pulo and Ratoeh Duek.
Altogether the 19 delegates of UGM SAKA from various UGM faculties have a dream and a strong determination to promote and introduce Indonesian culture in the land of the White Elephant. At the end of the event, loud rounds of applause was heard when SAKA UGM was mentioned twice in the evening peak of 11th Surin International Folklore Festival and Symposium.