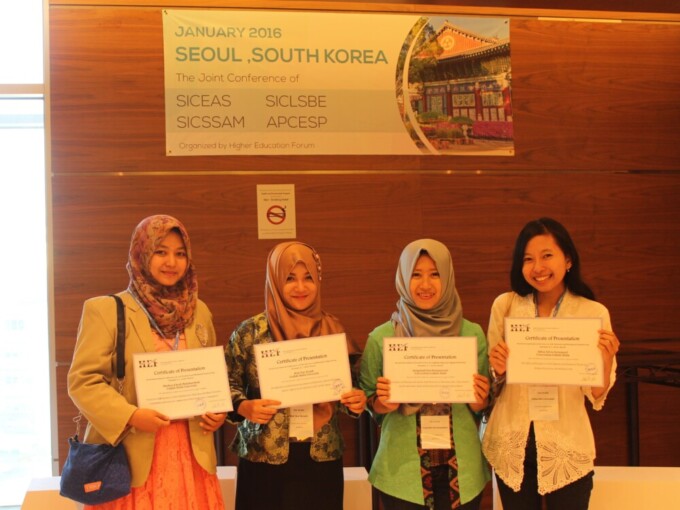 Four students of UGM were elected as delegates to two international conferences that took place simultaneously, namely Seoul International Conference on Engineering and Applied Science (SICEAS) and the Seoul International Conference on Life Sciences and Biological Engineering (SICLSBE) in Seoul, South Korea. The series of international conference events organized by Higher Education Forum that took place from 6 to 7 January, 2016 were attended by undergraduate and post-graduate students from various countries. In these events, the participants were given the opportunity to present research, share information, discuss the latest issues, and to publish their research finding in international journals.
Two undergraduate students of the Faculty of Biology, Shofura Fityah Mutaharrikah and Rini Nur Azizah, and master student of the Faculty of Medicine, Alfian Silvia Krisnasari, were chosen to participate in the SICLSBE conference after going through abstracts and papers selection process. On the occasion, Shofura and Rini each presents research about Comparative Effectiveness Culture Medium Fuel 'Bold Basal Medium' Plankton Communities of Freshwater Aquaculture Pool Cangkringan, Yogyakarta and Identification of Staphylococcus aureus in Indonesian Herbal Medicine "Jamu" Capsule in Comparison with "Jamu" Syrup, while Alfian presented a study entitled The Effect of Diazepam on the Hepatic and Duodenal Tissue of Rattus norvegicus, Berkenhout 1769.
Meanwhile, in the conference of SICEAS, UGM was represented by a student of the Faculty of Biology, Istiqomah Sari Kumarawati, with a research entitled Phylogenetic Analysis of Lactic Acid Bacteria in Glutinuous Rice 'Tapai Ketan' by Bioinformatic Tools in Relation with Its Bacteriocin Product.
In both of these activities UGM is one university which sends most undergraduate students, considering most of the other participants are researchers who are studying Master's program or higher level.
This activity is also expected to motivate other students to be more active and contribute to the development of science in the world. "Once we join a conference, we will be compelled to come back to another occasion. In the future, may we as students be more productive in research so that Indonesia will also be more advanced in the field of research. Hopefully, the government and related agencies will pay attention to the potential Indonesian students," said Alfian, Thursday (11/2).
On a separate occasion, Dr. Budi Setiadi Daryono, M.Agr.Sc., Vice Dean of Academic and Student Affairs, Faculty of Biology, expressed his hope that from scientific forums such as seminars, conferences, workshops or training, students can take advantage of the opportunity to develop research, insight, and networks, so that science and technology in Indonesia will continue to grow in a sustainable manner.