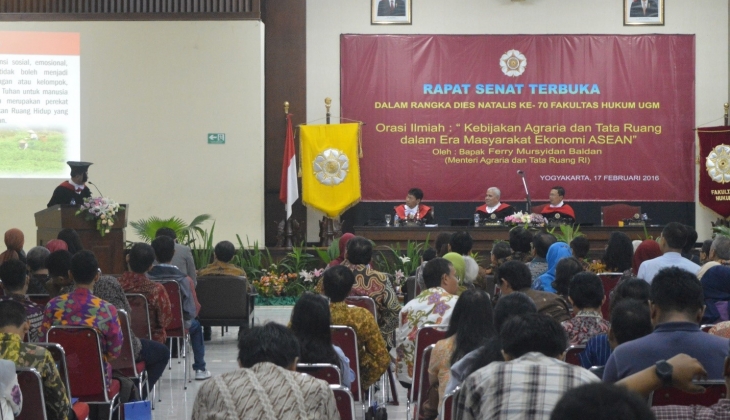 Faculty of Law Universitas Gadjah Mada celebrates its 70th anniversary. Many achievements and progress have been made. This was announced by Dean of the Faculty, Prof. M. Hawin, S.H., LL.M., Ph.D., in a Senate open meeting on Wednesday (17/2) in the Faculty's Auditorium.

"We're trying to always enhance and increase our learning services quality at Faculty of Law in order to produce graduates who have UGM identity with knowledge and skills equal to those of international level universities," Hawin said.
Academically, Faculty of Law continues to develop courses, methods and achievements that can answer work challenges but that do not leave behind understanding of legal principles with balanced proportion between knowledge, skill, and values. Along with this vison, legal skills improvement of graduates has become the main attention.

One of those is through the 15 courses being offered that include Education and Training of Legal Expertise and also apprenticeship to prepare graduates for work, also through the establisment of Law Career and Development Center to provide access to recruitment by various companies and agencies.

Faculty of Law UGM together with USAID Indonesia's Office of Democratic Governance are one of seven law faculties in Indonesia that first introduced learning method Clinical Legal Education in the Education and training of Legal Expertise course. In this programme, students are assigned to the office of partners to handle legal cases that emerge in society. This is accompanied by other non-academic programme through student institutions as media for them to develop their soft skills and leadership.

Meanwhile, Agrarian and Spatial Affairs Minister, Ferry Mursyidan Baldan, in his remarks revealed some legal cases that still happen in Indonesia that pose a challenge to the alumni. This was delivered in a scientific remarks entitled Agrarian Law that is Just and Makes ASEAN Economic Community Prosper.

"Sometimes court's verdict has instead created injustices in terms of land disputes while in fact land is an important aspect for all aspects of human lives," he explained.

The Ministry thus launched the Agrarian Reform, a continuous process to rearrangement of ownership and use of agrarian resources for legal certainty and protection for all citizens of Indonesia.

"Land has social, emotional, spiritual, and religious function and dimension, and it binds the social ties to realise a room for living that make people prosper. So, land cannot be the cause of conflict between individuals or groups," he said.