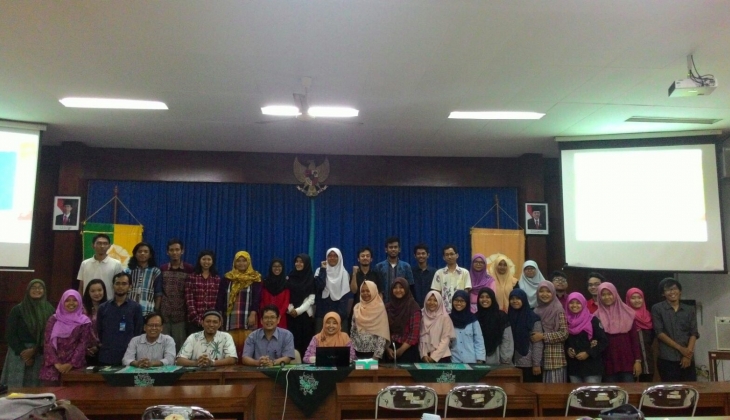 Social Media have become an inseparable part of people's lives. The practicality and facilities they offer have withdrawn people to using them to communicate and share information easily and quickly. But the ease has made the borders between social interaction and ethics obscure or even unseen.

This issue is the background for the socialisation of Communication Ethics in Using Social Media by Faculty of Biology UGM on Monday (15/2) in the Auditorium of the Faculty. Attended by Biology students class of 2015, the event presented speakers Secretary of Directorate for Information Technology and Academic Administration in the Education and Teaching Directorate of UGM, Dr. Sri Suning Kusumawardani, S.T., M.T,.

Suning maintained communication technology has brought changes to how people communicate with each other. People can now access the Internet regularly to send messages, find data and information, read news, or interact through social media."The development of various social media such as Facebook, Instagram, Twitter, and others have brought information easily to our lives. In response, we have to be smart in selecting and choosing the information for us," she said.

According to Suning, social media have positive and negative impacts. They allow communication and information sharing, also business transaction to happen. But, on the other hand, social media also have negative impacts, including the decrease in communication capability in the real world, moral decadence among society, ignorance of spellings and grammar, and rampant pornographic contents, cheatings and other kinds of cybercrime.

"Social Media are free to use but they need ethics to limit the freedom. Ethics help us behave appropriately when using the media that are often misused to spread negative contents," she said.

She emphasised on the importance of choosing which info can be shared publicly or privately. She mentioned ethics such as not disclosing personal information, using good and polite language, respecting others, not judging the book by its cover, giving opinion based on facts not assumptions, and refraining from using social media when getting upset.

Vice-Dean for Academic and Student Affairs, Dr. Budi Setiadi Daryono, M.Agr.Sc., focused on the importance of this socialisation to students, "My advice is for us to be wise in using social media as a tool for communication as well as for increasing academic outputs," he said.