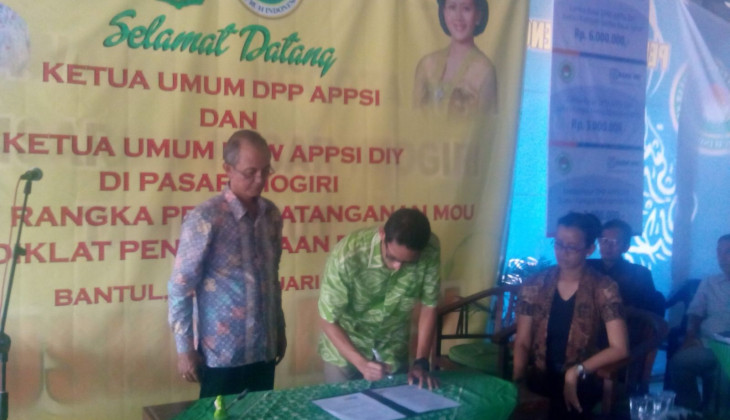 Centre for Democratic Economy Studies of Universitas Gadjah Mada and Executive Board of Association of Indonesian Sellers at Traditional Markets (DPP APPSI) have collaborated to advance traditional markets across the country. An MoU agreement was signed between Chairman of the Board, Sandiaga S. Uno, and Puthut Indroyono from the Centre on Thursday (18/2) in the Imogiri traditional market, Bantul regency.

Puthut Indroyono said through this collaboration, many groups are asked to advance traditional markets around Indonesia through the development of Smart School. This is expected to be the solution for millions of sellers in Indonesia.

Puthut admitted the challenge faced by thousands of traditional markets in the past decade. To meet the challenge, the Centre and Mubyarto Institute have developed an education model for sellers at traditional market since 2012.
"School for Populist Market was once born. Now with the collaboration between UGM and APPSI, we hope to have an alternative and solution to the development of thousands of traditional markets," said Puthut Indroyono.

GKR Mangkubumi, Regional Chairman of the Board, appreciated the MoU signing, moreover that the Imogiri market is a traditional market that has made national achievements.
"Seen in terms of various aspects, cleanliness, comfort, management, all that involve the participation of sellers, the Imogiri can be a model," said GKR Mangkubumi.