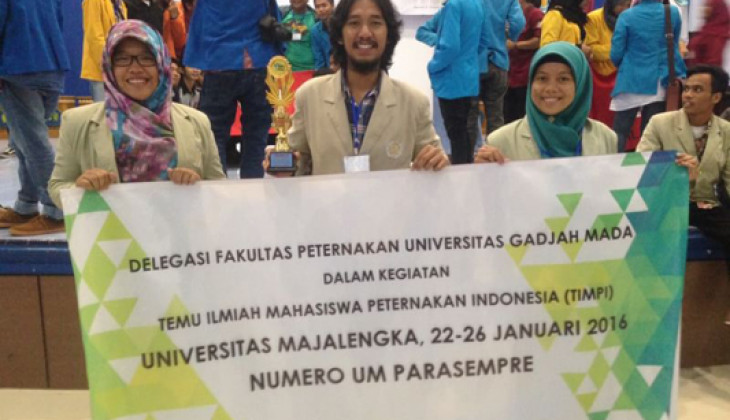 A team from Faculty of Animal Science UGM was the runner-up in the scientific debate category during the Indonesian Faculty of Science Scientific Gathering (TIMPI) 2016 at Universitas Majalengka, West Java, from 22-26 January 2016.

The achievement was made by a delegation comprising Rahina Muhammad Aji, Elinda Luxitawati, and Ulil Afidah. In the event themed Influence of ASEAN Economic Community on Development of Animal Husbandry Sector in Indonesia, tens of delegations came from Indonesian universities. Four teams from UGM made it to the national debate in Majalengka.

"In this debate we had to compete with other 11 teams from various universities in Indonesia," Rahina said on Thursday (25/2) at UGM.

Rahina said in the debate there were 12 teams getting through to the TIMPI 2016 at Universitas Majalengka. Other teams were from Universitas Sumatra Utara, Universitas Lambung Mangkurat, Universitas Mataram, Institut Pertanian Bogor, Universitas Padjajaran Bandung, Universitas Jenderal Soedirman, Universitas Mataran, Universitas Tadulako, Universitas Brawijaya, Universitas Negeri Surakarta, and Universitas Udayana.

"In the final we challenged the IPB team, debating on the establishment of Animal Science Ministry," he said.
Rahina was proud with the achievement they made despite not winning the best place. He hoped this would inspire and motivate other UGM students to keep making achievements in national or international events.

TIMPI is a routine event hosted triennially by Association of Indonesian Student Senate of Faculty of Animal Science (ISMAPETI). This year as many as 18 universities were participating. There were also scientific paper writing contest and national seminar on animal science.