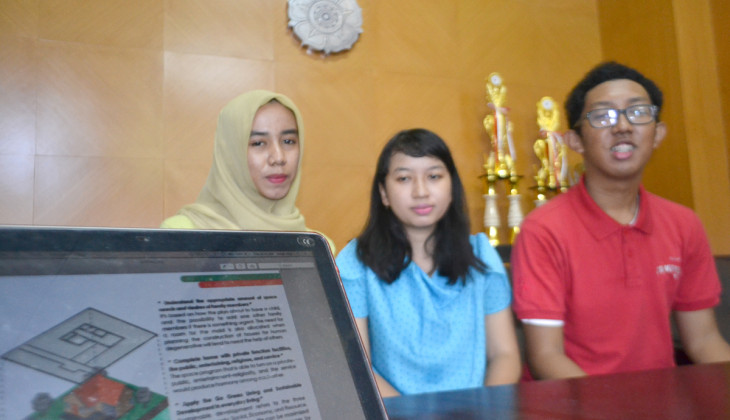 Four students of UGM won an Asia Pacific level competition for eco-friendly residential design, Young Leaders Build, held by Habitat for Humanity organization based in the Philippines. The four students are Irvandias Sanjaya (Psychology), Cindy Shandoval (Cultural Sciences), Elsana Bekti Nugroho (Architecture), and Ayu Indah Lestari (Vocational School). They offer home design concepts 'Psy-Cul-Lar'. They made it into big nine and were announced as winner along with eight others from Nepal and Bangladesh.

Dias said that they initially did not expect the concept of settlement which they named Psy-Cul-Lar would be among the winners to be announced by the committee in early February. The competition started since last October. "We received a grant to carry out the concept that we offer in the project we have proposed," said Dias.

The amount of grant they received from the committee was the same amount with the one they proposed previously. The battle is in the form of ideas on the development of human settlements in developing countries; therefore, UGM student team offers a form of house construction that integrates the psychology, culture and architecture.

In the field of psychology, they offer a system that can make the occupants become comfortable through education in the family. In terms of culture, the building adopts local wisdom. "We are inspired by the houses in Bali that are still built based on particular philosophy," he said.

While in the architectural design, said Dias, they offer ideas on eco-friendly residential development with improved sanitation facilities. "The house is not only a place for living, but the early foundation for the man to learn about the culture and comfort while in it," he said.
In accordance with their proposals, prize of the competitions which is around 2.5 million rupiah will be spent to make a video and poster as well as to hold photo and essay competitions. "The plan is we will promote this system with Habitat for Humanity in Yogyakarta," Cindy said.

Cindy hopes there are some communities to put interest on implementing it."To apply it depends on if anyone is interested," Cindy said.