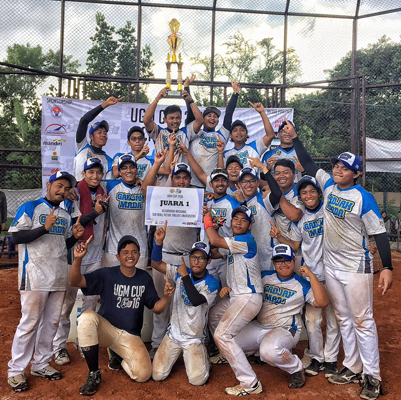 UGM softball team earned first place at UGM Cup National Softball Championship 2016. The tournament which was held at softball field, Lembah UGM, from 4-13 March 2016 put UGM and Airlangga University at the final round.
The Cup was participated by 10 teams from various universities in Indonesia which are Bina Nusantara, Telkom University, Semarang State University, Tunas Pembangunan University, UGM, Indonesia Islamic University, Universitas Pembangunan Nasional Veteran Yogyakarta, Brawijaya University and Airlangga University.
The chair of UGM softball team, Hanindyo Aziz Baskoro, said that their endeavor to earn first place was not easy. They have to beat strong teams from various universities.
"We are trying to give our best. We are glad that it became such an achievement," he explained, Sunday (14/3), at UGM campus.
Hanin said that UGM presented one team for this tournament which consisted of 20 athletes and 2 officials. This achievement was made by excellent team effort of UGM softball team, supported by the university. He hoped that this achievement will add to the team's spirit to win another achivement. "I hope that UGM softball team will get a similar achievement in various national tournaments," he added.