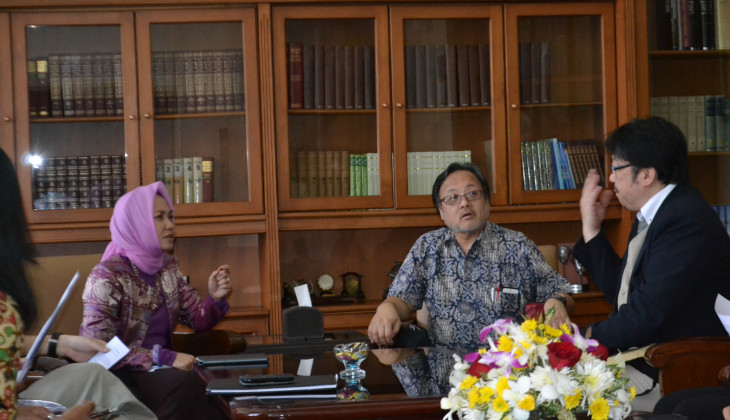 Universitas Gadjah Mada and Osaka University carry out joint research in the development of disaster response communications system applications. This application is expected to help the community in reporting emergency situations and terrorism to the public and the authorities. It is brought up at a meeting between the Rector, Prof. Ir. Dwikorita Karnawati, M.Sc., PhD. with Prof. Stefano Toshiya Tsukamoto and Takehiro Goto from Osaka University in Japan, Tuesday (15/3).
To the Rector, Tsukamoto said that the application called Cared Wide-view Disaster Information Prediction System or CARED has been developed in the last two years with the involvement of researchers and students from both universities as well as direct practice in Bantul. Meanwhile, the application development is conducted by PT Gama Techno. "This application is designed to update emergency disaster relief and terrorists," said by Tsukamoto.
He added that the application can record sound from a source of information for 10 seconds so it can be spread to the surrounding community or family. Tsukamoto is optimist that data generated from these applications can assist disaster emergency management policies.
UGM Rector, Prof. Ir. Dwikorita Karnawati welcomed the visit by researchers from the Osaka University. According to the rector, the application of research conducted between the two universities is expected to continue to be developed. "This application is useful for the community," she said.
According to the Rector, she also offers to cooperate with Osaka University. Not only in the field of information technology research, but also to run on-going biotechnology research project. "For UGM, Osaka University has become a strategic partner in the field of disaster research, technology and biotechnology," she said.
Dean of the Faculty of Social and Political Sciences, Dr. Erwan Agus Purwanto, who accompanied the group of Osaka University said that the cooperation between the Faculty of Social and Political Sciences and Osaka University has been running for more than three years. Not only in the field of information technology, but other forms of cooperation such as student exchange programs of undergraduate and graduate level as well.