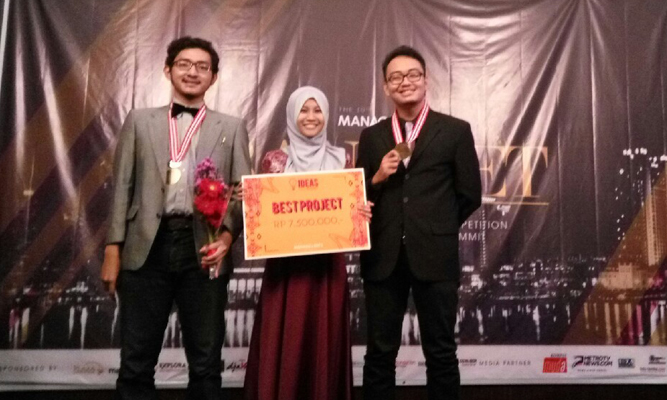 A team from UGM named Yogyakarta Dewandaru Project won the National Business Case Competition– IDEAS: Indonesia Studentpreneur Summit 2016 from 8-10 March. They came out as the Best Project in the competition held by Association of Management Students of Faculty of Economics UGM.
The Yogyakarta Dewandaru Project consisting of Liana Dewi and Jagad Hidayat Jati (Sociology student) and Dion Ferdian Rizaldi (Industrial Engineering student) beat 149 teams from other Indonesian universities. The team presented their project Kasongan Dewandaru Foundation (KAWAN Foundation).
"The competition is joined by as many as 150 teams from a number of universities in Indonesia," Dion explained on Monday (4/4) on campus.
Dion said they presented the idea of business development of pottery village, Kasongan, involving the local people. Under the KAWAN Foundation, the local people are empowered to actively develop tourism potential and creative business in Kasongan.
"We draft the concept to build an institution, KAWAN Foundation, that acts as support systems for Kasongan," he said.
There are five programmes of excellence in the foundation to improve marketing skills, human resource quality, and financial strength of pottery and tourism workers. The progamme is softwares development for Masterpiece of Kasongan, Duta Kampus untuk Kasongan, Forum Pengrajin dan Akademisi (FORPAKDE), Swarung Omah, as well as Sekolah Bisnis dan Seni (KOBIS).
"All elements of community from young people to senior people are engaged in this programme to develop Kasongan village tourism," he concluded.