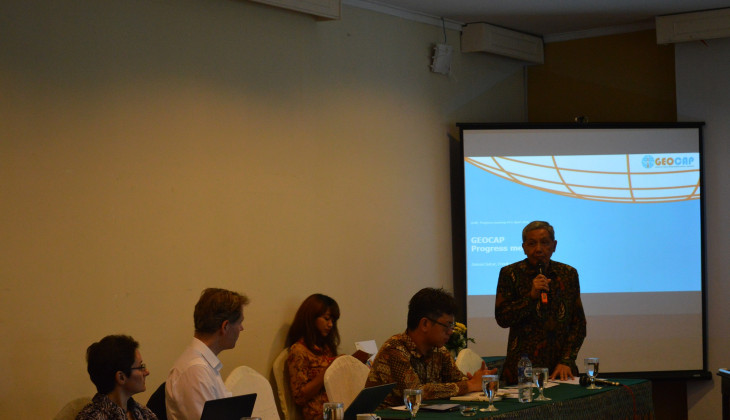 Indonesia has not optimized the utilization of geothermal potential. Despite having 40 percent (2009 thousands MW) of geothermal potential of the world, Indonesia currently uses this potential by as little as 4 percent and that is only used for the purposes of electrical energy.

Seeing the geothermal undeveloped use, it is logical that the government needs to encourage the direct use of geothermal energy. This is quite reasonable because the true potential of geothermal energy can be utilized in various sectors, such as industry, drying, agriculture, greenhouses and others.

"The easiest is usually for tourism. In some places it has been applied, such as a hot water bath in West Java and Clereng, Kulon Progo Yogyakarta," said Khasani, ST., D. Eng., M.Eng, a lecturer of the Faculty of Engineering, on the Geothermal Capacity Building Programme Indonesia - Netherlands (GEOCAP) at UC UGM on Monday (5/4).

According to Khasani, Indonesia needs to encourage the development of human resources for the utilization of geothermal energy. We hope through that efforts, communities can utilize geothermal energy directly.

"The government needs to encourage the direct use because that way it will be felt directly by society. As in Geothermal Park Lahendong, North Sulawesi, this potential is used to process the manufacture of palm sugar," said Khasani.
Therefore, GEOCAP meeting which is initiated by the Netherlands and Indonesia is expected to help the national geothermal capacity building program. Some activities that can be done are training, research data, and an inventory of areas that have geothermal potential.

The same thing was conveyed by UGM Vice Rector for Research and Community Service, Prof. Dr. Suratman, when opening the meeting of GEOCAP. The huge magnitude of Indonesia's geothermal potential should be utilized as a renewable energy.

"Just like what have been done by people of Lahendong, North Sulawesi. They have made use of geothermal to cultivate palm sugar," he said.

Forum of Geothermal Capacity Building Programme Indonesia-Netherlands (GEOCAP) lasted for two days from 4 - 5 April 2016. In addition to formulating research programs for geothermal exploration and exploitation, the forum formulates educational and training programs as well as database programs.