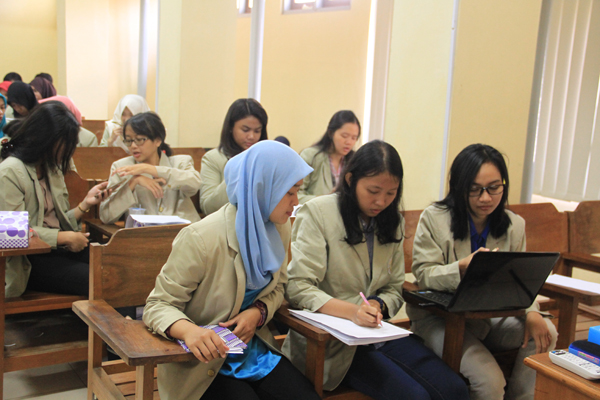 UGM students team managed to dominate the ITS Calculus Mathematics Competition (MISSION). UGM delegation won the first prize and the third prize in the Mathematics Competition held by Institute of Technology (ITS) on February 6, 2016.
In this competition, UGM team consisting of Erwin Eko Wahyudi (Computer Sciences) and Garry Ariel (Mathematics) won first prize. Meanwhile, other UGM team from Mathematics and Natural Sciences Faculty consisting of Mu'amar Musa N and Riky Kurniawan won the third place.
Erwin said that MISSION competition was attended by 100 teams from various universities in Indonesia. Some of them are ITS, ITB, Airlangga University, Universitas Andalas, Universitas Brawijaya, UIN Sunan Kalijaga, and UGM.
Erwin and Garry did not won easily. Previously, they had to compete with 99 other teams in the preliminary round. In the preliminary stages all participants were asked to work on the problems of calculus in the form of 40 multiple choice questions and 10 questions in the form of short answers.
"Of the 100 teams, 15 teams were selected that advanced to the national level. There are six UGM teams that made it to the national level," he said, Friday (8/4), at UGM.
Furthermore, in the final round the whole team went through the selection in two sessions: presentations and rally. In the presentation session participants are given a number of problems to be solved and presented to the jury. While in rally session every team must solve calculus questions in three different posts within an hour.
"(We're) Very happy and proud that in this competition UGM delegation could win two places at the same time," he said.
Erwin revealed that he and his colleagues had prepared optimally to face this MISSION. They discussed mathematical problems and mathematical calculus routinely in almost a month before the competition.
"(We're)Glad to get the most and give the best performance for the university. Hopefully in the future there will be more and more accomplishments achieved by UGM students in various championships," he concluded.