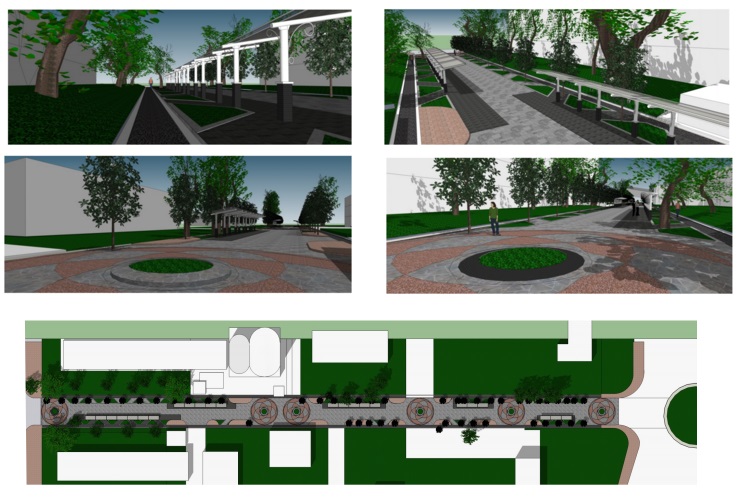 UGM designs social facilities and comfortable outdoor learning spaces for the entire academic community of UGM. The facility is equipped with WIFI, a place to learn and discuss, bicycle stations, good canteens, as well as urban open space for academic or non-academic activities. In addition, this facility means to facilitate interaction between students, faculty, and researchers from various backgrounds.
Director of Planning and Development of UGM, Sulaiman, ST, MT, D. Eng., said that the campus infrastructure was developed to provide multi-disciplinary learning atmosphere which promotes entrepreneurship as well as facilitates interaction within community. It is also in line with the needs of people of Yogyakarta and surrounding areas of urban open space that is increasingly rare.
"UGM is the only public open space which is relatively green, and is used by the public to exercise, family picnics and a place to socialize. In addition, the campus also serves as a water catchment area and flood control, as well as the lungs of Yogyakarta and surrounding areas," said Sulaiman on Monday (11/4).
Sulaiman also said that the situation of the last few years showed that the campus struggled to meet those needs. As a result, the campus atmosphere was not conducive to the process of teaching and learning and the development of environmentally friendly campus. This is due to the development of urban open space around the cluster of humanities with various facilities which is yet to be established.
For this reason, continued by Sulaiman, UGM is currently undertaking area development of Cluster of Humanities. Infrastructure development is conducted at the Faculty of Psychology, Faculty of Philosophy, Faculty of Social and Political Sciences, and soon the construction of the Faculty of Cultural Sciences and Faculty of Economics and Business.
"The infrastructure supporting social facilities and outdoor learning should be established to support a more comprehensive education infrastructure which can be enjoyed by the UGM academic community and society," he said.
On the other hand, the provision of a good and clean canteen has also become one of the top priorities of UGM. UGM has more than 55 thousand students, 8 thousand employees, and 2,500 lecturers. The number of the canteen cannot meet the needs of the academic community, in addition to inaffordable price which makes some members of academic communities choose less clean canteens. As a result, a few years ago some members of the academic community suffered from hepatitis and high cholesterol. This condition made them less healthy physically, impacting on their future.
"For that urban open space, especially in the area of humanities, is on its way," said Sulaiman (UGM / adelily)