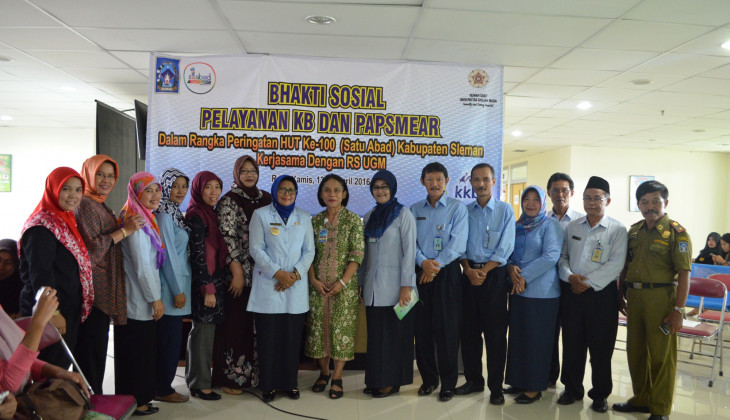 Universitas Gadjah Mada Academic Hospital has run a community service programme for family planning/implant and papsmear checks, supported by Family Planning Agency to celebrate the 100th anniversary of Sleman regency.

The event ws opened by Vice-Regent of Sleman, Sri Muslimatun, in the second floor of Srikandi Hall of the UGM Hospital on Wednesday (13/4). More than 200 patients followed the event that last from 13-14 April 2016.

Vice-Regent Sri Muslimatun said the event was part of series of events to celebrate the 100th anniversary of Sleman regency. It aimed at increasing participation for long term contraception methods.

"Obviously, this family planning services event aims at reducing population and poverty rate in Sleman while the papsmear aims at raising awareness of community on the health of cervix," said Sri Muslimatun.

According to Muslimatun, cervical cancer was the number one killer of women in Indonesia, making Indonesia the country with the highest number of cervical cancer patients based on WHO data.

"This prevalence can obviously be prevented if the community, especially women, are willing to do regular papsmear checks," she said.

UGM Academic Hospital Medical Services Director, Prof. Herini, added papsmear was required for all women, especially over 40 years of age.

"Currently, many people are hesitant to have a papsmear check.While in fact, if detected earlier, treatment can be done earlier, too," said Herini.