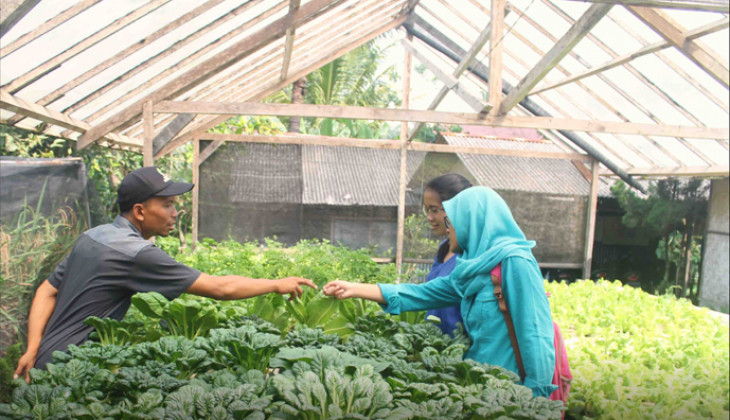 Five students of UGM develop hydroponics and aquaponics agricultural systems at Pucanganom village in Bantul regency.
"It is expected that the youth being empowered to run the farm will increase their independence and well-being," said Bima Sakti V P, team chairman, on Wednesday (20/4) at UGM.
Starting in early March 2016, aquaponics verticulture system or Aloevera Program was developed through UGM's Student Creativity Program by Bima together with Hengky Anang Wijaya (Electronics and Instrumentation, Vocational School), Rahma Firdanti (Faculty of Agriculture), Rima Darmawanti (Faculty of Agricultural Technology) and Rian Nur Hidayat (Faculty of Economics and Business).
Alovera program appears to be a solution to the problem of the youth in the village where Hengky resides. They would like to run a business, to be more productive and self-reliant in economy; however, capital was their major constraint. "Actually, they have the spirit and high work ethics, but it was all about financial problems," he said.
Bima said hydroponics and aquaponics farming system were developed as these are easier to be done on limited land and with limited water. They utilize 10x10 meters of land for the greenhouse to be used for cultivating plants, such as curly mustard, lettuce, celery, spinach, peppers, eggplant, onion, and tomato.
"We will also cultivate catfish in an area of 4x4 meters. Later, the manure of catfish will be used as fertilizer for the plants," Hengky said.
In addition, they provide a range of training to the youths, including on seeding, care, harvest and post-harvest management. "We join hands with a number of companies to share their experiences and provide training to the youth of Pucanganom village," he said.
Hengky added that they also provide an additional touch of technology by developing an automated system to control the pH level of the water in hydroponic farming to remain neutral, thus maintaining the growth and health of the plants. The system is integrated with Android-based smartphones and can be accessed at http: //aloeveraproject.tk/ Hengky said that this system contains information related to hydroponic farming as well as tutorial.
"We hope this village will eventually be a pilot village for hydroponic farming," Hengky concluded.