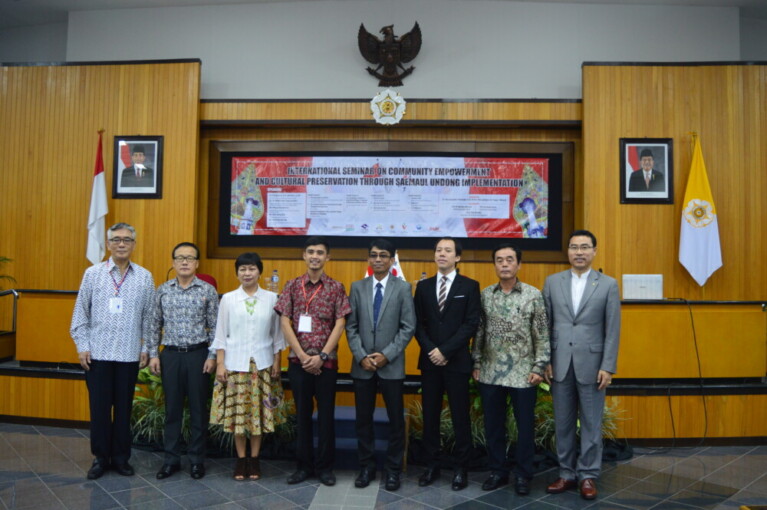 The Saemaul Undong movement initiated by the Korean government in 1970 serves the foundation for Korea's growth from underdeveloped nation to one of the world's biggest economies. The movement is acknowledged as one of the most successful national development programme. This has driven the Centre for Tri Sakti and Saemaul Undong Studies (PSTS) of Faculty of Philosophy UGM to study this movement specially to be implemented massively in the spirit of development for Indonesia starting from rural areas.
"The cooperation is expected to generate huge benefits for rural communities enhancement to improve their economy, social and cultural conditions," said Head of the Centre, also Dean of the Faculty, Dr. Mukhtasar Syamsuddin, in an international seminar titled Community Empowerment and Cultural Preservation through Saemaul Undong Implementation, on Tuesday (3/5) at UGM Graduate School's Auditorium.
Until end of the 1960s, most of the regions in Korea were still poor with increasing gap between the rural and urban areas. This triggered the Korean government to take the initiative in the form of Saemaul Undong movement, that prioritised on the spirit of persistence, self-help, and cooperation. The success of this movement was seen in the increase in household income from 825 dollar to 4,602 dollar in only 10 years.
The success made Korea one of the pioneers in development through village empowerment, one movement that is later imitated by countries in the world, including Indonesia. The similar background of Indonesia and South Korea sparked the hope that the similar programme can be implemented in Indonesia as well.
"The similarities between South Korea and Indonesia are that both inherit the nature of rural sector orientating towards excessive exports during the colonial era. But it turned out that rural development in Indonesia has not been done completely like in South Korea," said Nur Aini Setiawati, Ph.D, one of the speakers from History Department UGM.
In the Province of Special Region of Yogyakarta, implementation of Saemaul Undong has run in three villages of Gunung Kidul, Kulon Progo, and Bantul through a cooperation between Yogyakarta and Gyeongsangbuk-do Province in South Korea since 2008. This programme has succeeded in improving village infrastructure, clean water provision, people's income and work ethics.
The Centre for Tri Sakti and Saemaul Undong Studies' second seminar presented academicians from Korea, UGM, and other universities in Central Java that study the rural development of a number regions, particularly that relates to implementation of development strategy inspired by Saemaul Undong movement. Speakers each presented their findings of their research.
"Hopefully, we can do a society sustainable development, based on the study made by this Centre while the Saemaul Undong can be implemented to build Indonesia from rural areas," said representative from Saemaul Globalizaion Foundation, Hong Seunghoon.