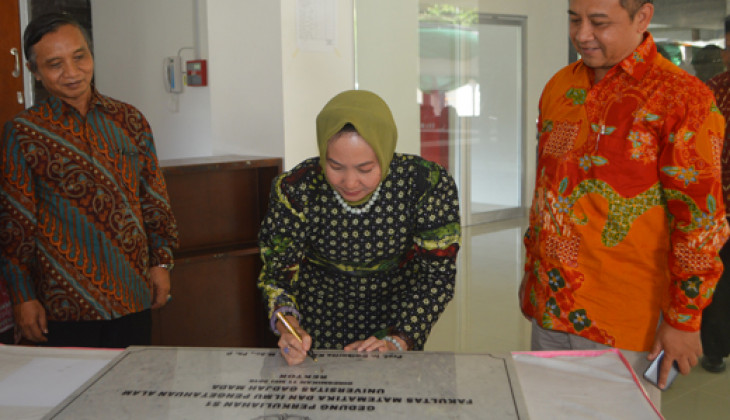 Rector of UGM, Prof. Ir. Dwikorita Karnawati, M.Sc., Ph.D., installed the new building of undergraduate programme of Faculty of Mathematics and Natural Sciences UGM on Wednesday (11/5), marked with plaque signing by the Rector UGM, witnessed by Dean, Drs. Pekik Nurwantoro, M.S., Ph.D., and former Dean, Prof. Dr Chairil Anwar.
Dwikorita in her remarks appreciated the construction of the new building, hoping this would support learning and research at the Faculty.
"Hopefully, monumental works can be produced from this building through research and education that can be directly applied for society and the industry whilst supporting government policy," she said.
Dwikorita revealed that UGM planned to develop ten innovation centres and laboratories at faculties. Research outcomes are expected to arise from this centre, useful to the wider public and able to give solutions to nation's problems.
Dean Pekik Nurwantoro said this new building is expected to minimise risks due to the use of different buildings in different places. The new building is expected to create more safety and comfort for all academic community of the Faculty.