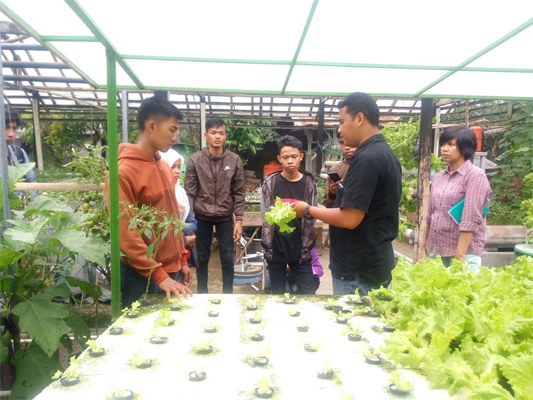 Five students of Universitas Gadjah Mada gave training on aquaponic agriculture system. They are Bima Sakti V P and Hengky Anang Wijaya from D3 Electronics and Instrumentation in the Vocational School, Rahma Firdiana Nurnahar (Agriculture), Rima Darmawanti (Technological Agriculture), and Rian Nur Hidayat (Economics and Business), all joined the Aloevera team.
In the Student Creativity Programme for Community Service, they empowered the local people of Pucanganom 1 village in Bantul regency through aquaponic agriculture that combines fresh water fish farming and vegetable and fruit farming. This can be done in a limited land with little water. The local people have built a greenhouse and pond for the project.
"We grow catfish while the plant we grow are curly mustard, lettuce, celery, water spinach, chilli pepper, Aubergine, tomato, and spring onion," Bima Sakti said on Friday (13/5) on campus.
The people are also trained in hydroponic agriculture in terms of seeding, maintenance and harvesting. Six youths have joined the programme. A company focusing on aquaponic and hydroponic agriculture in Sleman is involved in the project.
"Hopefully, this training can give added knowledge to the local people related to seeding, nurturing and harvesting as well as time management," said Bima.
Skilled human resources is also expected to arise from this training, which eventually can help improve the prosperity of the local people and increase agrotourism and agrobusiness of Pucanganom.