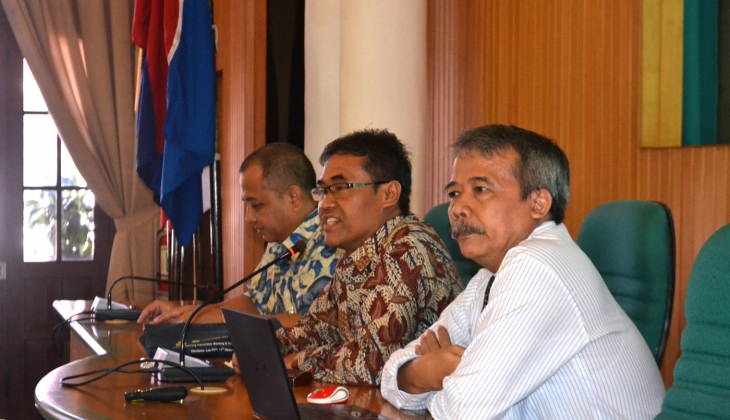 Three study programmes at Bachelor's Degree level at UGM were assessed by the ASEAN University Network on Higher Education for Quality Assurance (AUN-QA) to earn the quality assurance certification in the ASEAN region. The three study programmes are Architecture, Geography and Environment Sciences, and Geophysics.
Vice-Rector for Academic and Student Affairs of UGM, Prof. dr. Iwan Dwiprahasto, M.Med.Sc., Ph.D., said the academic quality assessment audit of AUN-QA was routinely conducted to measure the success of development in each study programme. "UGM is committed to improving the quality of education, course materials, and research, which is why we teamed up with AUN-QA," said Iwan, receiving 8 assesors from AUN-QA in the Multimedia room of UGM Main Office on Tuesday (17/5).
Iwan explained that the three deans of UGM Faculty of Engineering, Geography and Mathematics and Natural Sciences—Prof. Panut Mulyono, Prof. Rijanta, and Drs. Pekik Nurwantoro, M.S., Ph.D.—would explain the quality development of each study programme, as well as submit documents. The assessors would later visit the Faculties and meet alumni.
Iwan added that the AUN-QA assessment would be sustainable in the hope that it would increase the quality in the administration of education. "We want education and teaching to generate better graduates," he said.
Executive Vice-Director of AUN, Dr. Choltis Dhirathiti, said the assessment of the three study programmes involved assessors from Thailand, the Philippines, and Vietnam. She appreciated the UGM commitment to continue working with AUN. "We appreciate that UGM has entrusted the assessment role to AUN under the existing system," she said.
Apart from UGM, universities of ASEAN have invited AUN as a partner in the quality assessment of the running of study programmes. "There are already 160 study programme, 27 universities from 8 ASEAN countries working with AUN," she explained.