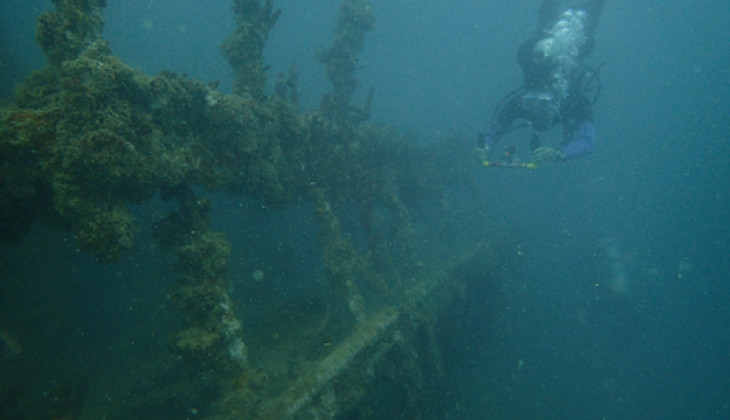 Mandeh lies in Pesisir Selatan regency, West Sumatera, which is renown for its marine attractions as well as coral reefs area that spans around 70 hectares. Another interesting spot there is the Boelongan shipwreck, the remnants of Boelongan Dutch ship that sank in Mandeh Bay in 1942 after being attacked by the Japanese troops. The shipwreck has been named a cultural heritage in 2007.
"Boelongan Shipwreck has a big potential to be developed into excellent world diving site," said Dwi Kurnia Sandy, Archaeology student, on Thursday (19/5) on campus.
Amateur and professional divers can dive to the Boelongan shipwreck that lies at 20 meters deep. The sea wave is relatively calm. The area boasts marine biotas with coral reefs and diverse fish. This potential needs to be preserved as well as to benefit the local people.
There are barriers, however, in the effort to preserve the nature and the shipwreck, for example years of sedimentation that piles onto almost half of the ship body, and illegal fish catch and stealing of materials of the ship body.
Concerned with this condition, Sandy along with Sultan Kurnia AB (Archaeology), Hafizhuddin, Muhammad Fadli Rozamuri (Geological Engineering), and Wastu Hari Prasetya (Archaeology), were trying to help solve the problem through a student creativity programme. They do an interdisciplines study to preserve the Boelongan shipwreck based on sustainable tourism principles. They cooperate with local agencies for the research on potential and coastal vulnerabilities as well as on cultural preservation of Batusangkar area and the local government of Pesisir Selatan.
Sandy mentioned sustainable tourism development had been started in 2006, but so far has not brought a significant change. "The tourism development on Mandeh is stagnant as it is not yet clear in terms of the role of stakeholders and local community," he said.
Wastu added it has not prioritised the people's aspiration, either, which comes in many forms, including monopoly of entrance tickets to the venue. "Hence, a communication and synergy is needed between the community and government," he said.
Members of the local community appreciated this suggestion. One member, Mai Hendri, said the community should be involved in the management of the shipwreck tourism.
"We, the people of Mandeh, wish to be involved in the development of Mandeh, because a good tourism destination in this place can increase the economy of the local people," he said.
Meanwhile, Syamsuardi, a dive master, expressed his concerns if the local people are not empowered in the management as it will affect the shipwreck sustainability. He supported the need for community empowerment that can sustain the shipwreck tourism.