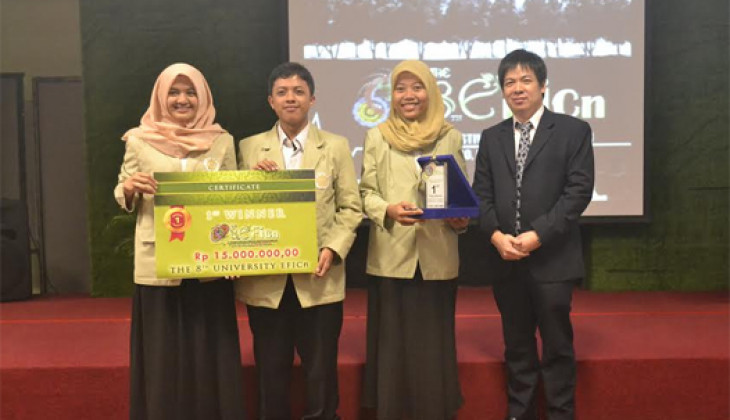 Three Mechanical and Industrial students of UGM won first place award in the national competition, Engineering Festival and Competition (EFiCn) 2016, from 9-12 May 2016 at Universitas Pelita Harapan (UPH), Jakarta. Themed Kill Your Ego, Build Your Eco, the competition was followed by 20 teams from Indonesian universities.
UGM team chairman, Novianda Aditya Istiqomah, said they won the title after a tough competition. Novianda, along with her fellow students Fakhrul Arifin Febriyanto and Derana Winni Adilia, went through to the semifinal and final rounds of EFiCn 2016.
In the semifinal all participants were asked to answer questions based on Industrial Engineering theories in a limited time under different complexities. In the first and second semifinal, the team had to answer multiple choice questions and essay while in the third round the team had to do a quizz. In the semifinal round which was Industrial Exploration, questions were asked on industrial engineering related to technical illustrations, calculus, ergonomy, forecasting, production system, etc.
"There were five best team going to the finals," she said on Thursday at Faculty of Engineering UGM. These are teams from UI, Telkom University, and Universitas Atma Jaya Jakarta. In the final, they had to finish a case study and give solution to plastic waste recycling company CV. Sinar Jaya Plastik, also making analysis and presentation.
"Based on need and problem, we offer a comprehensive solution in terms of supply chain management, layout, occupational health and safety as well as waste management," she said.
Novianda expressed their pride following their win, which is due to their hard work as well as problem solving comprehensively, systematically and logically. For the achievement, they are entitled to a Rp15 millions prize money.
Secretary of Industrial Engineering study programme of UGM, Dr. Budi Hartono, commented that the win added to the making achievements track that has been built so far in various competitions, such as IDEA, LKTI, first winner of INCHALL, third winner of IECOM 2016, and first winner of International Project Management Challenge 2015.
"We hope that in the future there will be many more achievements to be made by the students in national and international competitions," he concluded.