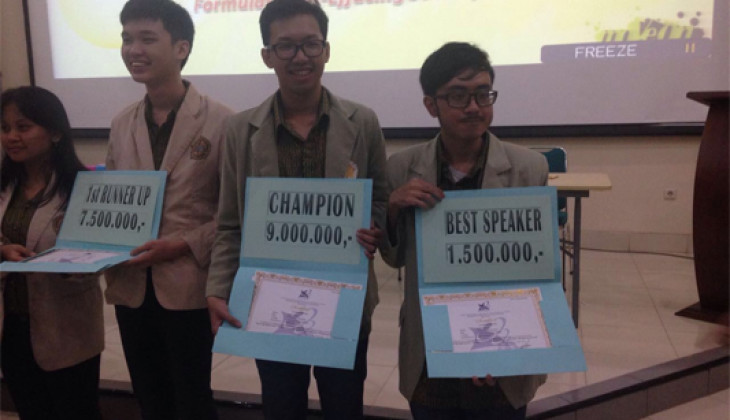 English Debate Society of Universitas Gadjah Mada won several competitions on regional and national level. Currently, EDS has won two different competitions. The first competition is National University Debating Champhionship at the regional level from 25-27 May 2016. The second competition was Ma Chung English Debate Competition at the Universitas Ma Chung, Malang on 13-15 May 2016. EDS won the first and the third place.
Aldila Irsyad, the member of EDS UGM, said that she and Aryanda Putra Tony won the first place at the NUDC after beating 43 other teams. They will then represent Yogyakarta at the national level this August. Beside being the first winner, Aldila Irsyad is succesfully awarded as the best speaker as well.
"At the final round, we met Universitas Sanata Dharma with the motion of Indonesia's Education Curriculum which does not explain about communist party on two version," she said, Monday, at UGM.
In the Ma Chung Debate competition, EDS team which consisted of Aryanda Putra Tony and Aldila Irsyad won the first place and other EDS team consisting of Syagung Gunawan and Raditya Putranti won the third place.
On the final round, both EDS team faced Universitas Brawijaya and Universitas Sanata Dharma. The motion was regarding micro economic organization which would give loan for women in the developing country.
Aldila added that Aryanda Putra Tony was awarded as the the best speaker in this competition.