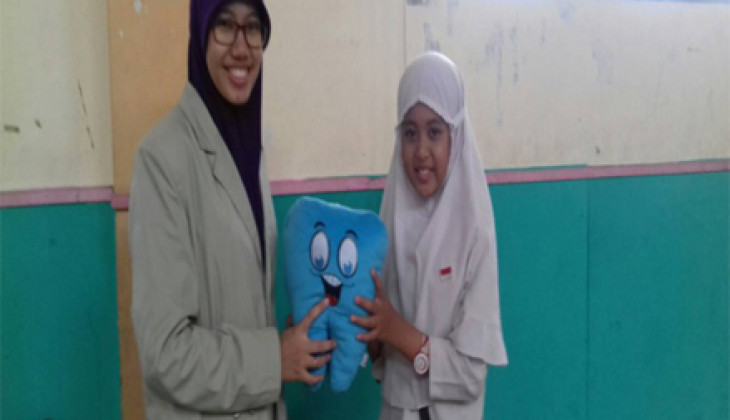 The awareness of dental care among Indonesian children is still low. According to data from Basic Health Research (Riskedas) 2013, number of children aged 5-9 years who have a dental problem reached 28,9 % while children age 10-14 years reached 25,2%.
This condition moves a group of Dentistry Faculty student UGM to initiate a 'young dentist' program in elementary school. Through Student Creativity Program they developed a promotive and preventive health program entitled For Oral Health with Socialization and Education (FROZEN). The team consists of Atma Beauty M, Nur Rahmah, Farisah Raudina F, Kukuh Eko P and Arif Rahman S.
"We are trying to maximize dental care unit in elementary school as a way to increase dental and oral health as early as possible," Farisah Raudina F explained on Tuesday at Dentistry Faculty UGM.
Farisah said that this program aims to train elementary school children to be active and be able to create their own program. The target of this program is 3rd and 4th grader students because in that age, children have a high curiousity and are aware of the importance of dental care.
Currently, the program is implemented at SDIT Luqman Al Hakim Yogyakarta. As a pilot project, there would be a selection for 'young dentists', continued with dental and oral screening. Creative and innovative training for 'young dentists' to be able to share their knowledges to their friends would be held next.
Frozen Program is responded positively by school. Hefie, the vice head master of SDIT Luqman Al Hakim Yogyakarta, said that the program would certainly support the student health unit to socialize dental and oral care.
"Frozen program is very good, the delivery of materials is very interesting. I hope it could increase children's awareness about dental and oral care," he said.