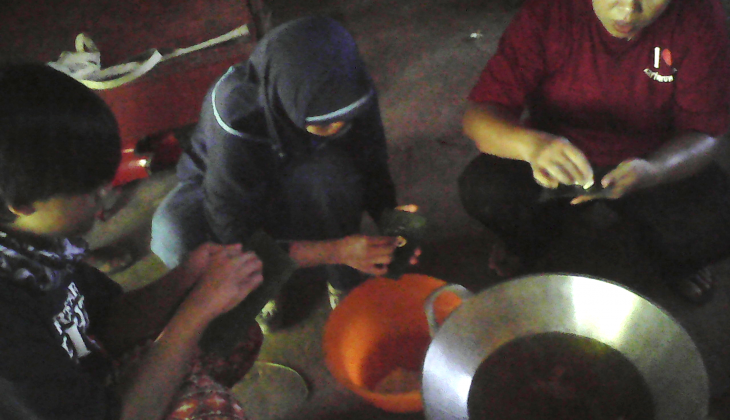 Karimunjawa islands off Central Java are small islands that are rich in natural resources, also human resources. These include the village of Kemujan. The potential, however, has not been handled well. A number of Universitas Gadjah Mada students, therefore, were driven to empower the women of the village to process local sea products, which is squid, into unique local product.
"That is the potential where we have an eye for, while the women here have the talents and resources to turn the sea harvests into economic products. But, they encounter problems in terms of marketing, packaging and consistency in making these products," said Trias Indah Lailasari, one of the students, on Friday (17/6).
Along with Wiwik Indriani, Anang Wahif, M. Shofwat Syauqi, and Donnie Koes Nugraha, she gave the women training related to marketing and packaging, network development, and partnership for local, regional, and global distribution. They also paid attention to individual relations as well as HR management.
"Encouragement, motivation, and helping decision making process related to production in the early stages become an important thing. If the women here have gained confidence, their spirit will also become active. They only need some triggers and a little help to get into the market," added Trias.


Animal Rights for Protection in Central Java
Meanwhile, three Social and Political Sciences students of UGM, Odam Asdi Artosa, Shifa Asma Ahsanitaqwim, and Hermawan Bagaskara, in addition to two Law students, Afriza Nandira and Adita Putri Hapsari, have made research into the rights of circus animals for protection in the Province of Central Java.
Prevailing regulations say that shows organised by circus operators cannot be run by random organisers, only certain legal organisers are allowed as conservation agency. The Ethics and Prosperity of Animals Guidelines of the Conservation Organisers have stipulated the SOP that covers circus management such as schedules, facilities and infrastructure for the animals, transportation, feeds, and also time breaks.
A government monitoring body has endorsed two circus organisers in Central Java as having normatively passed. Despite the fact, NGOs concerned with circus animals often voiced their concerns that animal exploitation has actually occured.
"NGOs consider all kinds of animals, including circus animals, have to live in their own habitat. If these have to live in a foreign habitat for long, this may be classified as an exploitation," said Adita.
She added some NGOs have already published their findings, including those related to data manipulation and ignorance of the SOP on how they get the animals.
"The findings showed that the prevaling regulations in Indonesia, especially on circus management, are still open for misuse by certain groups. These include forms of exploitation that are done concretely by circus organisers," she said.