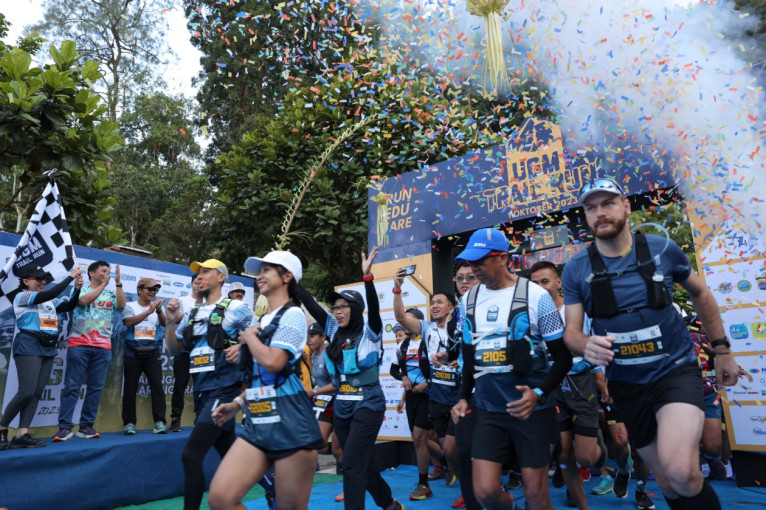 One thousand two hundred runners participated in the UGM Trail Run as part of the 74th Anniversary of Universitas Gadjah Mada (UGM). 
The cross-country run traversed Mount Merapi and attracted participants from Indonesia and abroad, starting at Karang Pramuka Kaliurang on Sunday (October 1).
This is the first Trail Run held in Mount Merapi, as previous events took place in the Wanagama Forest area of Gunungkidul. Participants in this event were delighted to experience running in the Mount Merapi area, where some of the trails were quite challenging.
Professor Ova Emilia, MD, the Rector of Universitas Gadjah Mada, stated that the 2023 UGM Trail Run, with the theme "Run, Edu, Care," is packaged as a shared commitment to promote and advocate for a healthy lifestyle, educate the public about environmental conservation, and foster a spirit of sharing.
Professor Emilia said Kaliurang was chosen for its capacity, education, culture, and tourism suitability. Besides sports, participants were also invited to enjoy the relaxed rural atmosphere typical of the slopes of Mount Merapi.
"The track is exciting, so it's called a trail. It involves uphill and downhill sections and offers scenic views. Participants engage in sports and enjoy the beautiful natural scenery here," she concluded.
Nugroho Dewayanto, the 2023 UGM Trail Run Committee Chair, explained that participants can run while learning about the conservation efforts carried out by the Mount Merapi National Park. This event also serves as an opportunity to educate the participants about tourism in Yogyakarta.
"We are also educating participants, and we hope they will contribute to local tourism development. We can see that they can find accommodations or hotels, and our micro, small, and medium-sized enterprises are here to introduce local products," said the Dewayanto.
1,200 participants from various categories joined the UGM Trail Run this time. Against the backdrop of the magnificent and graceful Mount Merapi, local and international runners were expected to complete the challenging cross-country running course, including distances of 5, 10, and 21 km.
To ensure the comfort and safety of participants during their trail running experience in the Kaliurang area, the organizing committee has collaborated with various parties to assess the current situation of Mount Merapi.
"The 5k category has the most participants, around 50 percent, 30 percent in the 10k category, and 20 percent in the 21k category. For participants from abroad, most of them live and work here as expatriates," Chair Dewayanto added.
"Most of the participants are from Yogyakarta, about 51 percent, followed by Jakarta, Kalimantan, Sulawesi, and others. There were foreign runners from various countries, too."
Roostian Gamananda, the 2023 UGM Trail Run Race Director, explained that the change in location from Wanagama to Kaliurang was to accommodate a larger number of enthusiasts who could not be accommodated due to limited capacity in Wanagama.
In this new location, runners will face new challenges and experiences, making it more exciting for the participants. 
"It is very challenging. There are other races around here, but they are not trail runs. So, when there is a trail run, the atmosphere will be different, and the participants will be happier. Some participants come from Morocco, Yemen, Malaysia, France, and many from Europe," said Gamananda.
The running course included the south slope of Mount Merapi, the Kaliurang area, Kali Kuning, Kali Adem, and Bukit Turgo. All the trails were ensured to be safe for participants as they were closely monitored and supervised by experienced marshals.
Author: Agung Nugroho
Photographer: Firsto