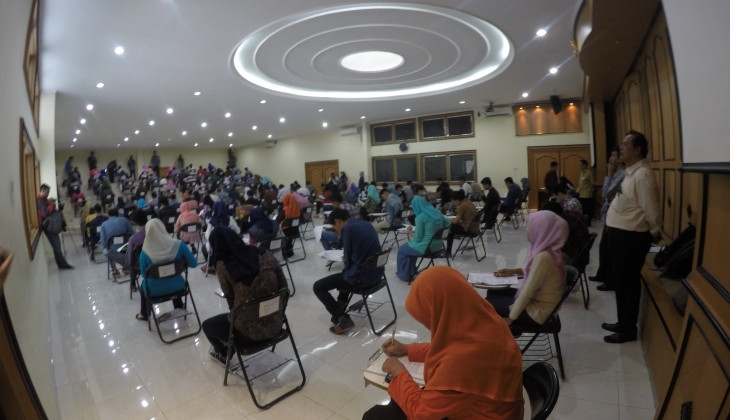 As many as 3,074 new students are accepted at UGM for Sarjana and diploma degrees first intake through written tests. Announcement was made on Friday, 1 July 2016 at 20.00 hours. UGM Vice-Rector for Academic and Student Affairs, Prof. dr. Iwan Dwiprahasto, M.Med.Sc., Ph.D., said there were 751 students for socio-humanities programme and 1,667 for science-technology. For Sarjana degree there are 2,418 students and Diploma 656. As many as 1,532 are male and 1,542 female. Applicants for this year increased to 32,606 this year from last year 28,603.
Prof. Iwan explained in the socio-humanities category, the most favourite study programme are Law, Management, Psychology, Communication, and Management and Public Policy. In science-technology category, the most liked are Medical Education, Dentist Education, Civil Engineering, City and Regional Planning and Industrial Engineering. For the Diploma programme, the favourites are Medical Records, Agroindustry, Mechanical Engineering, Computer Sciences and Information System in science-technology category, while in socio-humanities are Management, Archiving, Tourism, Applied Economics, and English study programme.
The new students need to submit required documents information of which can be accesssed through their accounts, starting from 12 - 15 July. The new students have to check the amounts of tuitions, registration schedules, and English test schedules at http://um.ugm.ac.on 20 July 2016 from 17.00 hours.
Payment can be made since 21 July 2016 - 25 July 2016 at ATMs, internet banking, and tellers of all branches of banks of Mandiri, BNI, BTN, BRI, and Bank Syariah Mandiri across Indonesia. Procedures can be seen at http://um.ugm.ac.id/cara pembayaran registrasi sarjana/.
UGM will further open written tests second intake for Vocational Schol until 11 July 2016. Test to commence on 16 July 2016 in Yogyakarta. Further information can be seen at um.ugm.ac.id.
Student candidates are requested to be on alert against possible frauds that promise they can secure a seat at the university by paying a certain fee.