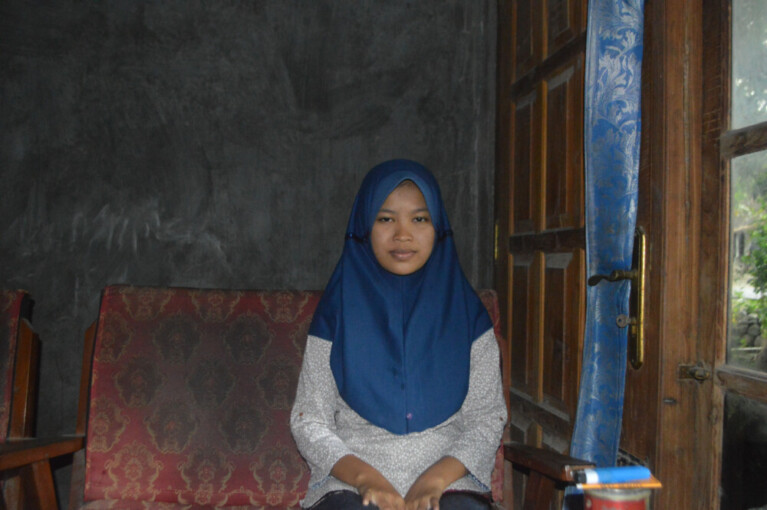 Siti Maqhfiroh (17) from Ngawi, East Java, has been awarded a Bidikmisi scholarship for free study at Universitas Gadjah Mada (UGM). Siti is the older of two children from Bulu II village in Ngawi. The daughter of Paimin (46) and Sumarni (38) has been accepted into the Agricultural Engineering study programme of the Faculty of Agricultural Technology at UGM.
"I had not imagined being able to study at UGM, and for free," said Siti when we met at her home recently.
Siti's father has to work hard to support the family. During harvest season, he came to do the harvesting for other people. In between, he is a brick layer or keeper of cattle belonging to their neighbours. His income from those jobs never exceeds IDR 800,000 each month, which is not enough to support the family, let alone to finance going on to higher education.
"My father doesn't have a fixed job. Once he even had nothing to do for a whole month," said the girl wearing a headscarf.
The alumnus of SMA 2 Ngawi had previously doubted her chances of making her dream come true to study at a university. She did not even have the heart to tell her parents of her wish as she fully understood their modest circumstances.
"At that time, I was even warned by a teacher as I had no plans to study further. Then, she told me to try my luck by entering the SNMPTN mechanism and I applied for a Bidikmisi scholarship," said Siti who has not yet been able to find accommodation in Yogyakarta due to the high costs.
Her poor circumstances never discouraged her spirit to study hard. Siti was always the best student at her elementary, junior and senior high schools. She was even among the top four in Ngawi.
After her success in getting admitted to the Faculty of Agricultural Technology, she has the dream to play a role in advancing Indonesia's agriculture. When she graduates, she wants to return to her home town to develop the agriculture sector there.
Paimin keeps expressing his gratitude for his daughter's success. He never imagined her being able to end up studying at UGM. Paimin and his family are very happy to hear the news. But, beyond that, there's not much that he can do for her daughter except to always support her and pray for her success.
"I hope the scholarship meets the needs of her studies. Hopefully, she can study well and be a successful person who makes her parents proud," he said.