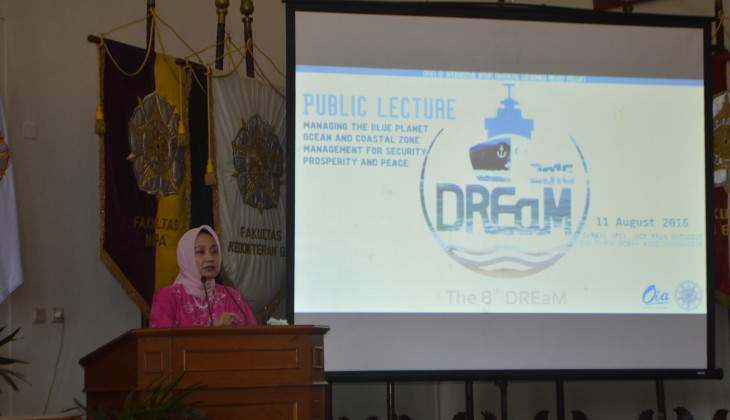 Universitas Gadjah Mada conducts another International Students Summer Program, DREaM, from 9-23 August. Up to 200 students from universities in six countries joined the event that started in 2009. These are US, China, Indonesia, Japan, Uganda, and Yemen. Rector of UGM, Prof. Ir. Dwikorita Karnawati, M.Sc., Ph.D., officially opened the event on Thursday (11/8) in the Senate Hall UGM.
The Rector appreciated all for their participation, hoping that the international students would share experiences, learn about UGM and the culture of other participants, also to contribute to their national development. "After this programme, we hope networking and tolerance would emerge, and together we make world peace," said Dwikorita.
She said that UGM continued to encourage its members of academic community to actively participate in creating world peace. Through education, research and community service UGM spread knowledge and technology to wider public and to help resolve problems locally, nationally, even globally.
"Let's together have active participation in world peace making," she asked.
The 8th DREaM themed Managing The Blue Planet: Ocean and Coastal Zone Management for Security, Prosperity, and Peace gives opportunities for students to know more about the ocean, coastal areas, and its management. They attend lectures that presented resource persons such as Arif Havas Oegroseno (Coordinating Ministry for Maritime Affairs), Desra Percaya (Indonesian representative in the Indian Ocean Rim Association), and Rokhmin Dahuri (former Maritime and Fisheries Minister). Further they have tutorial, community service, and short apprenticeship. Participants also visited cultural and historical destinations such as Prambanan and Ratu Boko Temples, Tamansari, Tembi village, Ullen Sentalu Museum, Mt. Merapi, and Sono Budoyo Museum.