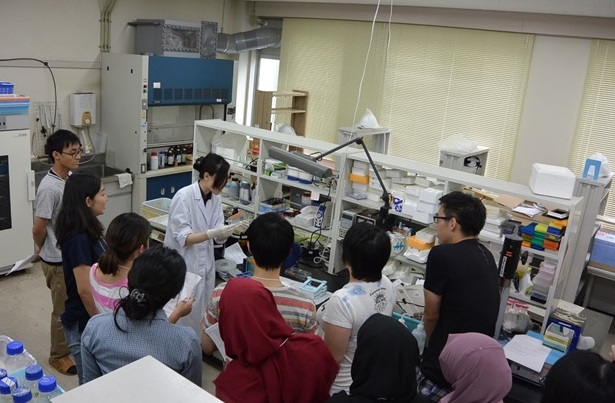 Four UGM students participated in the International Summer Course (ISC) 2016 at Nagoya University, Japan, from 3rd to 10th July 2016. The four students were Pretty Khoirunnisa, Elory Leonard, Annisa Resa from the Faculty of Biology and Nihlah Chalidah from the Department of Fisheries, Faculty of Agriculture. The ISC 2016 program is a form of ongoing cooperation between the Faculty of Biology at UGM and Nagoya University which began in 1995.
ISC 2016 was also attended by participating students in the G30 program of Nagoya University who hailed from seven countries, including the Netherlands, Taiwan, Malaysia, Mongolia, USA, Spain, and Thailand. The theme of ISC 2016 was "Advanced Marine Biology" which is a short lecture program organized by Sugashima Marine Biology Laboratory (SMBL), Graduate School of Science, Nagoya University.
Under the direct leadership of Prof. Hitoshi Sawada, all participants had the opportunity to study marine biology. The four UGM students had the opportunity to learn about the basic taxonomy of animals, the life-spans of Sea Urchins and Ascidians, molecular analysis techniques using Western Blotting and Immunostaining, and Genome Editing Techniques which are a recent development in molecular biology.
Through the 2016 ISC program, participants can develop their mindset and ability to conduct experiments in the field of marine biology. The knowledge they gained from the program will be useful to develop research and exploration in the field of marine studies in Indonesia. It is also expected that the cooperation between the Faculty of Biology and Nagoya University will continue.
Welcoming the return of the student from ISC 2016, Dr. Endang Semiarti, MS, M.Sc., Vice-Dean for Research, Service and Cooperation at the Faculty of Biology, said that she was proud of what they have achieved.
"With the knowledge and skills acquired during the summer course, students are expected to use them for research and study in Indonesia," said Endang on Wednesday (24/8).