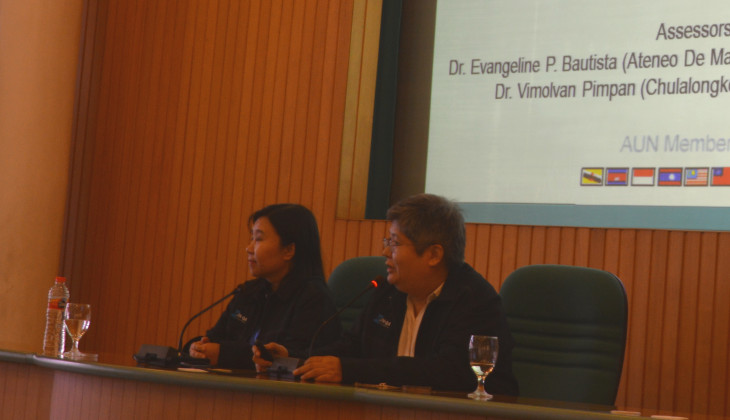 Eight assessors from the ASEAN University Network on Higher Education for Quality Assurance (AUN-QA) have assessed three study programmes at Universitas Gadjah Mada: Agribusiness, Philosophy, and Politics and Government Studies.
The assesment was based on 15 criteria including programme specification, learning strategy, quality of academic staff, student quality, facilities and infrastructure, and stakeholder's satisfaction. The assessors elaborated aspects that have run well at each study programme and suggested improvements. One of points of excellence of UGM is the learning process that delivered by team-teaching, where one course is taught by 2 or 3 lecturers at the same time.
"In this method of teaching, 2 or 3 lecturers cooperate over a course and its teaching. This is one of the best practices," said Assoc. Prof. Dr. Vongdeuan OSAY on Wednesday (24/8) in the Multimedia room at UGM. He also praised the technology-based monitoring system of student development called e-Lisa as well as online library access.
The assessor for Philosophy, Assoc. Prof. Dr. Vimolvan Pimpan, said the UGM Philosophy study programme excels in the philosophy of Pancasila and opens the thoughts of students. "The emphasis on Pancasila attracts the attention of students who want to study philosophy. Students also said that this study programme helped them be more open-minded," he said.
Suggestions that were offered by the assessors include identification of Expected Learning Outomes (ELO) and study time.
Rector of UGM, Prof. Ir. Dwikorita Karnawati, M.Sc., Ph.D., expressed appreciation for the suggestions from the assessors. She said UGM would continue to develop itself and improve its academic quality. "We have entered the process of change to move forward. We are energised to go with the change by showing real steps taken as a follow-up to the recommendations given by the assessors," she concluded.