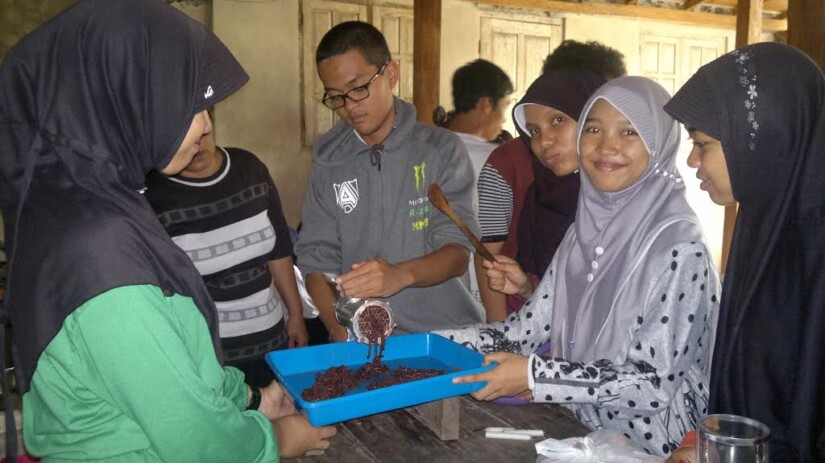 Six UGM students from Faculty of Agriculture have developed an education tourism at Tanen hamlet in Hargobinangun village, Sleman regency, that is called as Edu Agro Tourism of COCOA (EAT COCOA Merapi).
Initiator of the Eat COCOA Merapi, Abdul Malik, said the community empowerment activities had run since 2013. Along with fellow students Endri Geovani, Hendri Yudha Winanto, Deni Muslifah, Siti Muawanah and Restiana Ruly, Abdul designed agrotourism that gives facilities for visitors to know more about cocoa industry from planting to processing. The concept of the community empowerment in 2013 won the Innovation Week at Agricultural Institute of Bogor.
"The goal of this agrotourism is to increase the economy of the local farmers to support government programme for job creation," he said on Thursday (25/8) at Faculty of Agriculture UGM.
Abdul said cocoa has been grown in the Tanen hamlet on an area spanning 9.9 ha. The local farmers groups do conservation, seedling, pest control, compost making and organic fertiliser making, and cocoa fermentation. Visitors would not only enjoy the chocolate produced by the farmers but also process it directly from the farms.
The EAT COCOA Merapi has received grants from Higher Learning Village Grants.
In adition, visitors can have the chance to learn traditional dance and music, batik and make-up as well as make children toys with local children. Lodging is provided in the area, too.
This is all expected to optimise the community empowerment programme for cocoa farmers from the Tanen hamlet."Hopefully, the economy of the local people would improve," he said.