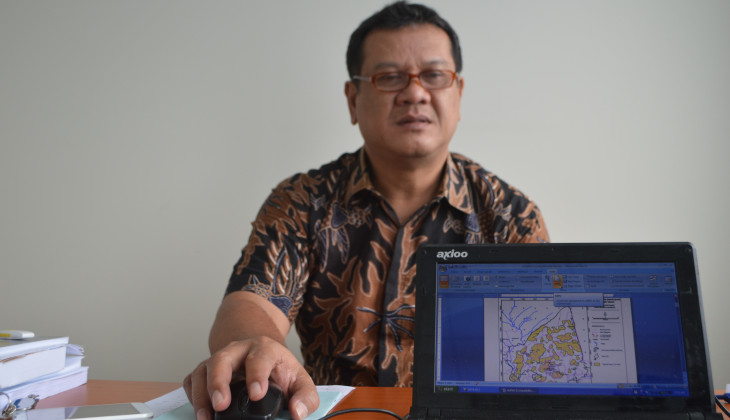 Hydrologist from UGM, Prof.Dr.Ig.L. Setyawan Purnama, M.Si., said up to 50 percent of Yogyakarta and Sleman areas were threatened with water crisis. The decreasing rate of surface ground water is increasing each year due to high demand for water whilst the water recharge is reducing.
"The demand for water in Yogyakarta and Sleman is high due to the increased population and economies, who tend to consume more water," the professor said on Thursday (1/9).
Data from Public Works, Energy and Mineral Resources of Yogyakarta office in 2011 recorded a decreased surface ground water in Yogyakarta of 30 cm per year, in Sleman 15-30 cm. "If each year the ground water decreases up to 30 cm, in 10 years it will reach 3 meters," said the Environmental Geography lecturer.
If water recharge is not higher than the use, water crisis is feared to happen. Data from Directorate for Environment, Geology, and Mining Area in the Energy and Mineral Resourcse Ministry in 2011 showed the potential or supply of shallow ground water in Yogyakarta-Sleman was 604 million meter cubic per year. Deep ground water was 9 million meter cubic per year.
Setyawan Purnama said demand for water in urban areas was 130 liters per day. Further he said the decreased ground water was caused also by the reduced water absorping area due to rampant land conversion for residential settlements, hotels, malls, apartments etc.
Iwan suggested the concept of "Zero Run Off" to minimise the reduced ground water. This can be done in many ways such as well-drilling, rainwater catchment, or reservoir that can be done in family, government institution, companies, and industry.
"This can start from offices or institutions by making clear regulations to make biopores or reservoirs," he said. He also called on hotels to make biopores with a depth equal to that of the ground water taking.
Other efforts are to increase the capacity of water companies to use river water instead of mountain water. "The water can be used for cleaning. The city of Semarang has done it by using the water from Garang river," he said. Also by reducing the rate of land conversion, especially in water catchment areas. The public can also play their role by saving the water or retain rainwater for daily needs.