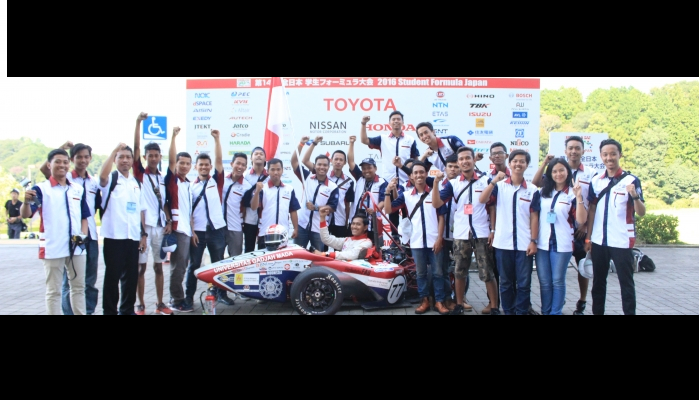 UGM's formula car Bimasakti has won awards in formula car competition for students, Student Formula SAE Competition of Japan, held in Japan from 6-10 September. Bimasakti was named the best car among other Southeast Asian cars or 26th place of 92 teams joining the competition. It also won third Overseas Team category, as well as coming third in the category of Efficiency of Internal Combustion Vehicle (ICV) class.
Fajar Fitrahadi Danda, a Bimasakti team member, said the achievement was the fruit of hard work by the team that had prepared it for two years. "The achievement we made this year is the highest for Indonesia while attending the Student Formula Japan SAE Competition," said the Mechanical Engineering and Industry student at Faculty of Engineering UGM to reporters on Tuesday (13/9).
Fajar said the Bimasakti UGM team had 28 student members from Mechanical Engineering and Industry, Electronics and Instrumentation, Economics and Business departments, and two supervising lecturers.
Fajar revealed the Bimasakti UGM team this time participated in the Vehicle Examination and was approved by Society of Automotive Engineers Standard (SAE) on 6 September, which was a prerequsite to join the Dynamic Event two days later.

Dynamic Event was Autocross with the best laps in 1:06:05. On the same day, Bimasakti UGM Racing Team also followed the Acceleration Event and Skidpad Event with best time 5.985 seconds and 6.377 seconds sequentially. On the next Endurance Event the best time was 1:12:25.
UGM Director for Student Affairs, Dr. Senawi, said the achievement made by the Bimasakti team this year was the highest ever recorded by Indonesian teams at the Student Formula Japan SAE Competition. "With this achievement, the Bimasakti UGM team has the potential to make more and better achievements in the future," he said.