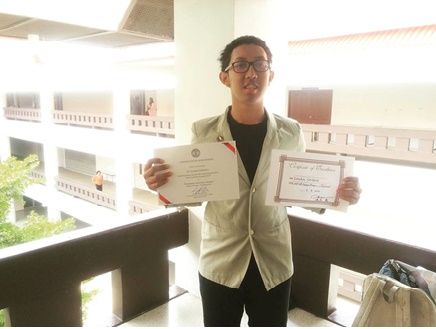 Irvandias Sanjaya, Psychology UGM student has earned Best Project Presentation and Best Student awards during the Asian Cooperative Program (ACP) 2016 at Thammasat University, Thailand from 28 August-8 September 2016.
Asian Cooperative Program 2016 is a summer programme since 2015, a collaboration between UGM and several universities in Asia, namely Kansai University of International Studies, Yangoon University of Myanmar, and Thammasat University. This year ACP raised the theme of Safety Management. As many as 33 students from Indonesia, Thailand, and Japan participated in the event.
"I was proud to be able to earn two awards at the same time," said Irvandias Sanjaya on Wednesday (14/9) at UGM.
He said the Best Project Presentation was gained with his team after presenting papers entitled Holistic Applicative Approachment on Disaster Management (Study case: Thailand's Flood in 2011). For his active role and creative ideas during the the ACP, he was elected Best Student in the ACP.
Irvandias said during the event, all participants learnt safety management studies disaster mitigation efforts. They also had the chance to visit areas in Thailand such as the water catchment area of Bang Krachao as well as Amphawa area that is surrounded by rivers.
"In Thailand we interact with the local people, learning how to anticipate against flooding that often hits the areas," he said. He commented there were experiences and insight to be learned from ACP 2016. He hoped these would contribute to society related to research development, disaster exploration and mitigation in Indonesia.