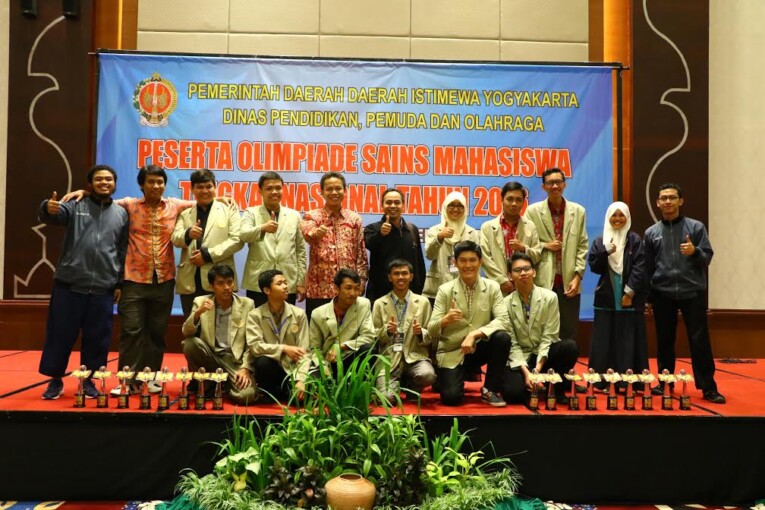 A total of 11 students of UGM passed the selection process for the National Science Olympiad held by Education, Youth and Sports Regional Agency. They will compete for three days from September 27 to 29, 2016 at Mercubuana University, Yogyakarta.
The UGM Director of Student Creativity, Ahmad Agus Setiawan, ST, M.Sc., Ph.D., said that eleven UGM students were sent to join the national selection in four areas: mathematics, chemistry, physics, and biology. Eleven students who passed the selection process consisting of 3 students for mathematics field, three students for chemistry field, 3 students for biology field, as well as two students in physics.
"Out of 33 students that we sent, 11 were selected to become the representatives of Yogyakarta," he said, Tuesday (27/9), at UGM.
Ahmad Agus mentioned that eleven UGM students along with one student from UNY were chosen to be the representative Yogyakarta. In the competition they will be competing along with hundreds of other participants from various universities throughout Indonesia.
Coaching and training is routinely given for UGM delegates who will go to the national selection. One of which is through the National Olympiad of Science Community (ON MIPA). Through this community, students were prepared for the national competition in four areas. They were given a briefing and exercises along with the alumni of ON MIPA from each field.
"One of talent search programs at the university level was done through Open Online Contest (Kosti) for UGM students," he explained.
"Hopefully, we can be overall champion in this competition," he said.
Ahmad Agus said that UGM continued to maximizing guidance for students. This is done to strengthen the quality of students to participate in various competitions at the national and international levels.