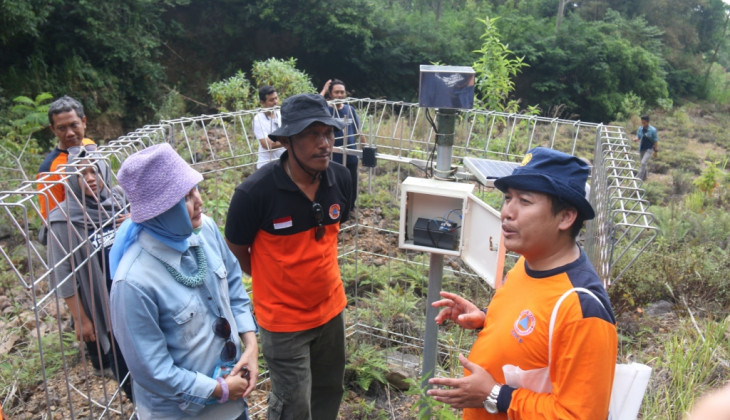 Landslides and flash floods which destroyed some public facilities caused trauma for the people in the village of Abang Batu Dinding, Kintamani, Bali. Therefore, the installation of Early Warning System (EWS) for landslides and flash floods were welcomed since it is able to reduce the anxiety of residents against the possibility of landslides and flash floods.
"The benefit is obvious. It will give an early warning to residents at any time if a disaster occurs," said I Wayan Ardika, resident of Abang Batu Dinding, Sunday (9/10).

He recounts, in 1964 the village was hit by flash flood that claimed 2 victims, and destroyed the temple located in the village. The areas inhabited by 189 families and 570 residents, said Ardika, is prone to landslides and floods.

Likewise, the Head of Bangli Disaster Mitigation Agency, I Wayan Karmawan, admitted that EWS is very helpful, considering the condition of the area is prone to landslides and flash floods. The presence of EWS UGM was then followed by the implementation of additional disaster response training to the community.

"People know the evacuation routes that they have to take in case of landslides or flash floods," said Karmawan.

Researcher, Dr. Wahyu Wilopo, explained that the installation of four sensors in Abang Batu Dinding a year ago was carried out through cooperation between UGM and National Disaster Mitigation Agency (BNPB). Landslide detection device that is installed is consisting of extensometer, tiltmeter and rainfall tools. Before the device was installed, UGM team performed a risk assessment, socialization, disaster risk management team establishment, map making of evacuation routes, Evacuation SOP design, installation of EWS equipment and evacuation drills and joint consensus on the EWS equipment maintenance.
"We determine which location is risky," he said.
T. Faisal Fathani, PhD, a member of the research team, added that the system has also become SNI standard for the installation of Early Warning System in Indonesia. According to Faisal, EWS tool is able to detect ground movement up to 1 millimeter, while adjusting to geological site conditions and the soil structure. Wahyu mentioned that other than Bangli, 100 EWS were already installed in 16 provinces in Indonesia as well as on a number of mining companies abroad.
Meanwhile, the Rector, Prof. Ir. Dwikorita Karnawati, M.Sc., Ph.D., said that the installation of the EWS is a form of UGM presence to state business, particularly in implementing the outcomes of education, research, and community service for the benefit of society.
"This is not a donation or grant, but as an expression of fraternity, work together to implement a simple technology for society. The purpose of doing academic activities is to address humanitarian issues," she said.

She also appreciates the involvement of villagers in conserving and utilizing the EWS system as one of the means to build their capacity in disaster management. This indicates that UGM mission in empowering the community has been achieved.

"One indicator for this system to succeed is when people could operate and maintain it by themselves. If we still need to talk and explain, it means that people have not understood. It should be appreciated that the community really utilize the whole system well," she explained.

Dwikorita also explained that Landslide EWS by UGM has been established as world standard reference (ISO). Thus, eventually the entire international industrial products for Landslide Early Warning System should refer to the system and technology of UGM.